I am a licensed Black Belt Nia teacher.
Nia, co-created by Debbie and Carlos Rosas, is a cardio-dance practice that combine 52 simple moves with dance arts, martial arts, and healing arts to get you fit in 60 minutes – body, mind, emotion, and spirit. Nia tones your mind and tunes your body.
Each workout brings mindfulness to your dance movement experience leaving you energized, mentally clear, and emotionally balanced.
Nia is practiced barefoot, non-impact, and adaptable to individual needs and abilities.
I discovered Nia in 2003 as part of my graduate training in the Experiential Health and Healing program at the Graduate Institute in Connecticut. The experience was truly transformational! After feeling paralyzed by grief, one Nia session opened the floodgates and allowed me to start moving and feeling alive again. I knew from that first day I wanted to share the magic of Nia with others.
I've practiced a lot of different types of movement. Nia is unparalleled. While there is a form and structure, there is also plenty of freedom and individuality. The guiding sensation of Nia is pleasure. The guiding principle is the joy of movement. Together, they make it so that through movement we can achieve a state of wellness in mind, body, heart and spirit.
My Nia classes focus on developing a student's self-love and ability to feel joy in their bodies.
As a facilitator, I strive to create a loving, mindful and open space for you to experience the joy of movement, self-expression and healing power of the Nia technique.
My maiden name, Lucero, means "bright star." I am excited to move, groove and share my light with you.
Nia Special Class in Seattle, WA on Sunday, February 18, 2018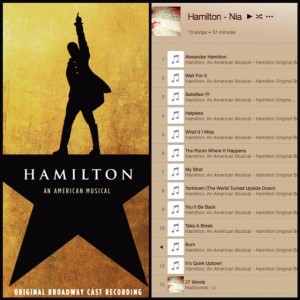 Don't throw away your shot! The Nia routine I created, instigated by Nia student and dear friend Anita Verna Crofts, to the music of the Broadway sensation, Hamilton: An American Musical, is returning to Seattle for an encore!
Date: Sunday, February 18, 2018
Time: 10:30 AM – 11:30 AM
Location: Balance Studio (Fremont), 418 N. 35th St, Seattle, WA 98103
Cost: $15 (pay Jason at the door)
Huge thanks to Jason Alan Griffin for inviting me to teach at his regular time. I am so grateful!
Nia Class Schedule:
After teaching Nia in Seattle for the past 7+ years I am sad to say farewell to my beloved NiaSeattle community on Sunday, October 8, 2017.
I am relocating to Southern California in November 2017 and look forward to starting up new classes there in early 2018.
My Nia teaching career was born here and I will forever be grateful to Seattle for welcoming me as a teacher in August 2010. I plan to teach special classes in Seattle during my visits in the coming months and years. Until then, check this space for information about special upcoming Seattle classes and a new schedule in Southern California.
My Seattle classes are transitioning to my fellow Nia colleagues. Shandi Wolfe-Weaver has taken over Thursday evening classes at Embrace the Moon. Jason Alan Griffin will be taking over Tuesday evening and Sunday morning classes at Balance Studio beginning on October 10, 2017.
Thank you, Seattle community, for truly some of the best years of my life.
Promo Video:
Enjoy this short and sweet little promo video created by NiaSeattle first degree Black Belt teacher Jason Alan Griffin as part of the NiaSeattle Visibility Project. Check the NiaSeattle Facebook page for more videos of Nia teachers in Seattle!
Nia in action:
What to wear
Wear loose comfortable clothes that you can easily move and sweat in.
Nia is traditionally practiced barefoot. If, for health reasons, you must wear shoes, please ensure that they are "indoor" shoes only.
What to bring to class
Bring drinking water.
You may want to bring a towel.
Tips for class:
Listen to your body. In Nia, we follow the pleasure principle: if it feels good, keep doing it. If it doesn't feel good, tweak it until you find what feels good for you.
Do less. Don't worry about breaking a sweat at first. Instead, connect to your feet. Allow your feet time to develop strength so that you stay comfortable. Increase intensity gradually.
Give yourself time to "learn" the moves. Once your legs are dynamically involved, begin to add more movement of the core and arms. Increase complexity gradually.
Express yourself. Use your voice and breath to stimulate your core. Be yourself and move in your own unique and beautiful way. Let go of fear and dance.
Play. Instead of spending energy on expecting, analyzing, or critiquing, let your inner child come out and open yourself up to having an amazing experience.
What people are saying:
Read testimonials.