What is Nia?
Nia is a wellness and fitness format that combines the expressiveness of dance, the power and explosiveness of martial arts, and the mindfulness of the healing arts. The foundation of Nia is "through movement we find health." With over 52 movements that mobilize the base, core and upper extremities of your body, Nia is a holistic practice that creates a pathway for you to explore both your movement potential and capacity for wellness. As you learn to listen and respond to your body, you begin to feel increased joy and pleasure in movement, which inherently improves your well-being.

Nia was co-created by Debbie and Carlos Rosas over 35 years ago and was the first non-impact aerobics practice that focused on joy, pleasure and designed movement around the body's way. Nia's philosophy is that "fitness must address the whole human being, not just the body. Exercise that's done strictly for its own physical sake, divorced from the emotions and human spirit, isn't satisfying, isn't fun and eventually fails. To achieve whole-being integration, you must address the whole person. Nia accomplishes this by combining several classic movement forms."
The nine movement forms that comprise Nia, that you experience in Nia classes, are:
Dance Arts: Jazz, Modern & Duncan Dance
Martial Arts: T'ai Chi, Tae Kwon Do & Aikido
Healing Arts: Feldenkrais, Alexander Technique & Yoga
Nia is practiced barefoot, non-impact, and adaptable to individual needs and abilities.
I am a First Degree Black Belt level trained Nia teacher, the highest level of training for a teacher. I am also trained in several other Nia specialty practices: Moving to Heal, Nia 5 Stages and 52 Moves.
I discovered Nia in 2003 as part of my graduate training in the Experiential Health and Healing program at the Graduate Institute in Connecticut. The experience was truly transformational! After feeling paralyzed by grief, one Nia session opened the floodgates and allowed me to start moving and feeling alive again. I knew from that first day I wanted to share the magic of Nia with others.
I've practiced a lot of different types of movement. Nia is unparalleled. While there is a form and structure, there is also plenty of freedom and individuality. The guiding sensation of Nia is pleasure. The guiding principle is the joy of movement. Together, they make it so that through movement we can achieve a state of wellness in mind, body, heart and spirit.
My Nia classes focus on developing a student's self-love and ability to feel joy in their bodies.
As a facilitator, I strive to create a loving, mindful and open space for you to experience the joy of movement, self-expression and healing power of the Nia technique.
I have used my extensive training and love for the in depth practice of Nia to create Archetypal Choreography, unique Nia-inspired routines that blend with archetypal storytelling.
My maiden name, Lucero, means "bright star." I am excited to move, groove and share my light with you.
Nia Class Schedule: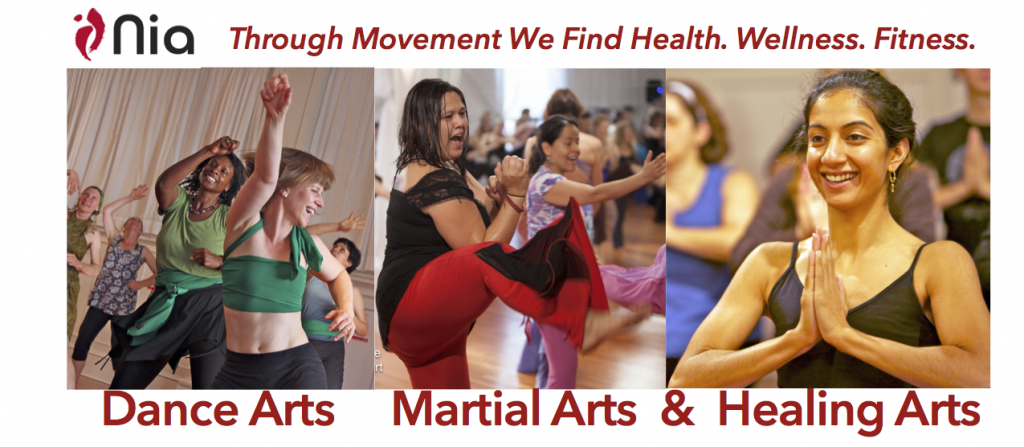 ---
Nia Dance – The Joy of Movement – Saturdays in Corona del Mar
Move your body and maximize your joy through Nia. A mind-body fitness practice, Nia blends dance moves, martial arts and healing arts (such as yoga) to leave you feeling strong, flexible, agile, centered and uplifted. Dance barefoot to super fun and diverse music (sneakers welcome). Moves are easy-to-follow, fun, energizing and stress-busting. Join our joyful and judgment-free community!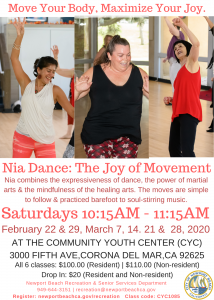 When: Saturdays from 10:15am – 11:15am
Dates: February 22 & 29 and March 7, 14, 21 & 28, 2020
Location: Community Youth Center (CYC), 3000 Fifth Ave, Corona del Mar, CA 92625
Instructor: Jennifer Lucero-Earle
Cost: 6 sessions for $100.00 (Resident), $110.00 (Non-resident), or $20 drop-in
Register for 6 class session: https://apm.activecommunities.com/cnbreg/Activity_Search/nia-dance-the-joy-of-movement/50281
Drop-in rate: $20 (Drop-in's always welcome)
Drop-in's can pay in person at the front deck at the Community Youth Center (CYC).
The drop-in process is below.
To drop-in:
– Arrive about 10 minutes before class to check-in.
– Go to the Community Youth Center (CYC) front desk.
– The fee is $20 (resident and non-resident fee).
– You can pay via cash, check or credit card.
– If paying in cash, you must have the exact amount (they do not have change).
– If paying via check, make it payable to City of Newport Beach
– Then take your shoes off, go to the Corona del Mar room and let's dance!
**If after paying the drop-in fee you decide you want to do pay for the entire series, they will transfer your drop-in fee to pay for the series.
---
Nia: Moving to Heal – Wednesdays in Newport Beach, CA

Next session begins April 1, 2020. Registration is open now.
Gentle Dance that is Movement as Medicine
Moving to Heal is a gentle Nia class. Nia is a fusion of dance, martial arts and healing arts such as yoga. Moving to Heal is adaptable for anyone returning to movement, recovering from injury or illness, or simply needing a slower pace. This beautiful class format is designed for people seeking ways to feel better and more joyful in their bodies. Enjoy easy-to-follow choreography to fun music in a supportive atmosphere of safety and trust. Open to drop-in's!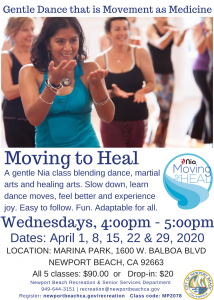 When: Wednesdays from 4:00PM – 5:00PM
Specific Dates: April 1, 8, 15, 22, & 29,  2020
Location: Marina Park Community Center, 1600 W. Balboa Blvd, Newport Beach, CA, 92663
Instructor: Jennifer Lucero-Earle
Cost:: 5 sessions for $90.00 or $20 drop-in
Register for 5 class session: https://apm.activecommunities.com/cnbreg/Activity_Search/moving-to-heal-gentle-dance/51552
Drop-in to any class $20 (Drop-in's always welcome) *Pay the front desk.
Things to bring and know:
---
Special Classes: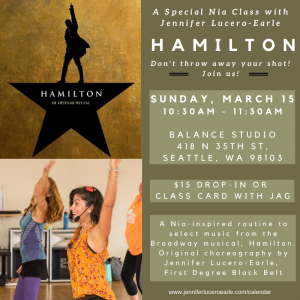 Nia to the music of the Broadway hit musical, Hamilton!
Don't throw away your shot!
Join me for a special Nia class in Seattle on Sunday, March 15, 2020 where I will be sharing Nia-inspired routine, with original choreography by me, to select music from the Broadway hit musical, Hamilton!
When: Sunday, March 15 , 2020
Time: 10:30AM – 11:30AM
Where: Balance Studio, 418 N 35th St, Seattle, WA 98103
Cost: $15 or class card with JAG, pay JAG directly

Stretch & Fly Yoga Dance: The Dance of Spring Awakening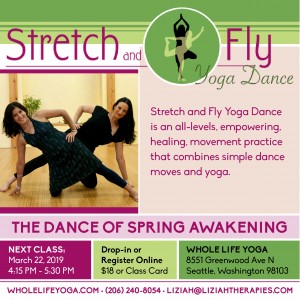 Stretch and Fly, created by Jennifer Lucero-Earle and Liziah Richards is a unique empowering movement practice that combines simple dance moves and yoga. Experience original choreography that blends flowing movement and dynamic stillness.
The four invitations of Stretch & Fly are to cultivate a: 1. Strong and Flexible Body, 2. Calm and Focused Mind, 3. Receptive and Expressive Heart and 4. Confident and Joyful Spirit.
Each Stretch & Fly class has a theme. The theme of our March 22 class is The Dance of Spring Awakening, celebrating the turning of the seasons from Winter to Spring!
Class begins dancing and moving with bare feet connected to the ground and ends on the mat.
When: Sunday, March 22, 2020
Time: 4:15PM – 5:30PM
Location: Whole Life Yoga Studio, 8551 Greenwood Ave N, Seattle, WA 98103
Cost: $18 drop-in
Pay Whole Life Yoga
---
Promo Video:
Enjoy this short and sweet little promo video created by NiaSeattle first degree Black Belt teacher Jason Alan Griffin as part of the NiaSeattle Visibility Project. Check the NiaSeattle Facebook page for more videos of Nia teachers in Seattle!
Nia in action:
What to wear
Wear loose comfortable clothes that you can easily move and sweat in.
Nia is traditionally practiced barefoot. If, for health reasons, you must wear shoes, please ensure that they are "indoor" shoes only.
What to bring to class
Bring drinking water.
You may want to bring a towel.
Tips for class:
Listen to your body. In Nia, we follow the pleasure principle: if it feels good, keep doing it. If it doesn't feel good, tweak it until you find what feels good for you.
Do less. Don't worry about breaking a sweat at first. Instead, connect to your feet. Allow your feet time to develop strength so that you stay comfortable. Increase intensity gradually.
Give yourself time to "learn" the moves. Once your legs are dynamically involved, begin to add more movement of the core and arms. Increase complexity gradually.
Express yourself. Use your voice and breath to stimulate your core. Be yourself and move in your own unique and beautiful way. Let go of fear and dance.
Play. Instead of spending energy on expecting, analyzing, or critiquing, let your inner child come out and open yourself up to having an amazing experience.
What people are saying:
Read testimonials.