What is Nia?
Nia is a wellness and fitness format that combines the expressiveness of dance, the power and explosiveness of martial arts, and the mindfulness of the healing arts. The foundation of Nia is "through movement we find health." With over 52 movements that mobilize the base, core and upper extremities of your body, Nia is a holistic practice that creates a pathway for you to explore both your movement potential and capacity for wellness. As you learn to listen and respond to your body, you begin to feel increased joy and pleasure in movement, which inherently improves your well-being.

Nia was co-created by Debbie and Carlos Rosas over 35 years ago and was the first non-impact aerobics practice that focused on joy, pleasure and designed movement around the body's way. Nia's philosophy is that "fitness must address the whole human being, not just the body. Exercise that's done strictly for its own physical sake, divorced from the emotions and human spirit, isn't satisfying, isn't fun and eventually fails. To achieve whole-being integration, you must address the whole person. Nia accomplishes this by combining several classic movement forms."
The nine movement forms that comprise Nia, that you experience in Nia classes, are:
Dance Arts: Jazz, Modern & Duncan Dance
Martial Arts: T'ai Chi, Tae Kwon Do & Aikido
Healing Arts: Feldenkrais, Alexander Technique & Yoga
Nia is practiced barefoot, non-impact, and adaptable to individual needs and abilities.
I am a first degree black belt level trained Nia teacher, the highest level of training for a teacher. I am also trained in several other Nia specialty practices: Moving to Heal, Nia 5 Stages and 52 Moves.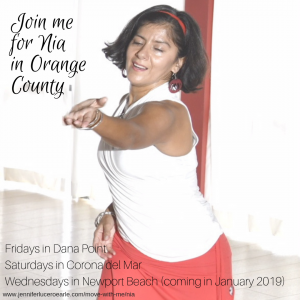 I discovered Nia in 2003 as part of my graduate training in the Experiential Health and Healing program at the Graduate Institute in Connecticut. The experience was truly transformational! After feeling paralyzed by grief, one Nia session opened the floodgates and allowed me to start moving and feeling alive again. I knew from that first day I wanted to share the magic of Nia with others.
I've practiced a lot of different types of movement. Nia is unparalleled. While there is a form and structure, there is also plenty of freedom and individuality. The guiding sensation of Nia is pleasure. The guiding principle is the joy of movement. Together, they make it so that through movement we can achieve a state of wellness in mind, body, heart and spirit.
My Nia classes focus on developing a student's self-love and ability to feel joy in their bodies.
As a facilitator, I strive to create a loving, mindful and open space for you to experience the joy of movement, self-expression and healing power of the Nia technique.
My maiden name, Lucero, means "bright star." I am excited to move, groove and share my light with you.
Nia Class Schedule: