Date: Sunday, March 26, 2017
Carolyn Cushing of Soul Path Sanctuary and I wrote a multi-part article together to explore how our Tarot approaches fit together and as a prelude to a workshop we are offering together called Soul Path Embodiment: Dare to Get Out of the Chair! after the Tarot and Psychology Conference on April 27, 2017 of the upcoming Readers Studio.
Enjoy Part I about The Magician on Carolyn's blog and Part 2, about the The Wheel of Fortune, below!
The Wheel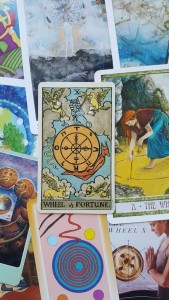 In the RiderWaiteSmith Wheel of Fortune, the Magician's symbols evolve into beings with wings. They surround a wheel seemingly floating in the sky. Everything moves in the Wheel. We are invited to follow.
The Wheel invites us to take notice of the pace and tempo of our movement towards action. We can tune in to what works for us whether that's speeding up, slowing down or finding a rhythm of stop and start. As we turn with the Wheel we might ask ourselves, "Do I keep a soft grip or a tight grip? Do I plow ahead or move slowly and mindfully? How does my body respond to an unexpected detour or redirection?"
These questions become even more instructive when we explore them through physical movement and feel the impact of plowing, mindfulness, gripping, steering, stopping, changing direction, or dodging 'traffic,' for example.
Having taken the stances of figures on the cards, we can extend that into a next step into the action. And as we move into a flow inspired by the Tarot, we send a message to our inner selves that we are ready for change. As we move, we show a commitment to the Tarot's lesson of change.
In ArcanaDance, Jennifer invites her students to use the opportunity to move inspired by cards as a dress rehearsal for change. She invites them to "try on" how it feels to move through change embodying the energies of strength, sovereignty, joy, strategy, trust, resolve, etc.
Over her years of leading ArcanaDance, Jennifer has seen that people have a deeper readiness for change when they can safely explore and experiment embodying new beliefs, habits and patterns.
Tarot inspired movement becomes a powerful foundation and first step for change making in our daily lives.
To continue reading – and have an encounter with The World – pop back over to Carolyn's blog.
Feeling inspired and want to join us? Register for the 1-day Tarot and Psychology Conference and come to our evening session or sign up for the whole weekend of Readers Studio, the annual three-day gathering, in New York City, that includes sharing, teaching, and learning of all things Tarot. Just follow the links to register for either or both of these fabulous gatherings.
Date: Wednesday, March 29, 2017
The following short ArcanaDance video is the final installment of the multi-part blog post about embodying tarot cards through movement co-written by me, Jennifer Lucero-Earle, and Carolyn Cushing of Soul Path Sanctuary.