ArcanaDance – August 2017 Classes
Following is the last ArcanaDance series of 2017. I am moving from Seattle. Please join me for all or part of this series where my intention is to celebrate the rich and deep fulfillment I've experienced in Seattle, the birthplace of both ArcanaDance and my Nia teaching career. The World is also my birth card and so I am excited to share what I've learned about wholeness, via my own life journey so far, with you.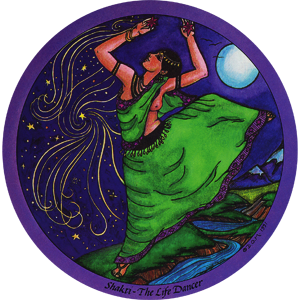 The Dance of The World: A Somatic Exploration of Wholeness
When: Sundays, August 13, 20 and 27, 2017

Time: 9:00am – 10:15am
Where: Balance Studio, 418 N. 35th St, Seattle, WA 98103
Cost: Series of all 3 classes is $45 or $15 drop-in.
"In my life, each instance of holding nothing back is a teacher. In the realm of the body, I keep learning how to give my all in order to land in a stream of grace. In the realm of the mind, I keep learning how to break the hardened province of my little world in order to humbly join the Universe. In the realm of the heart, I keep learning that perceiving and expressing is a sacred aerobic that keeps my emotional center healthy and clean. And in the realm of spirit, I keep learning that surrendering all my dreams and wounds and personal histories, no matter how briefly, allows the fragrance of my soul to renew my sense of life as an unrepeatable mystery." – Mark Nepo
The tarot card of The World is the culmination of living fully and deeply, amidst an understanding of the tension between life's limitations and potentials.

If tarot cards could dance, this is what they'd look like!
In the tarot, the World card is the archetype of wholeness. What makes you feel whole?
During this series we will explore, through tarot and movement, how to use our life force energy to cultivate a sense of wholeness, fruition and fulfillment in our lives. The World is an invitation to dance fully and joyfully through this one precious life!
Somatic means "relating to the body." In ArcanaDance, we bring tarot imagery, symbolism and meaning into the body so that tarot becomes a transformative embodied experience.
All are welcome! No tarot or dance experience is required. Tarot decks will be provided for use during class.
Drop-in or attend all four classes.
What to wear:
Wear loose comfortable clothes that you can easily move in. We dance barefoot so no shoes are required. If, for health reasons, you must wear shoes, please ensure that they are "indoor" shoes only.
Register:
Email jennifer@jenniferluceroearle.com
Payment Method:
Cash, Check, Square or PayPal (see below)
PayPal:
View previous series classes here.