ArcanaDance is on break in June 2017.

ArcanaDance – July 2017 Classes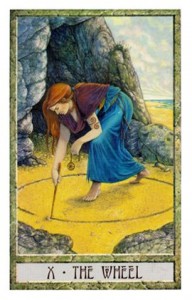 The Dance of Change: A Somatic Exploration of Choice
When: Sundays, July 9, 16, 23 and 30, 2017
Time: 9:00am – 10:15am
Where: Balance Studio, 418 N. 35th St, Seattle, WA 98103
Cost: Series of all 4 classes is $60 or $15 drop-in.

When we know how to dance with change, we are able to hold our center as things in our lives rise and fall, expand and contract, and decay and grow.
In the tarot, the Wheel of Fortune card is the archetype of the wheel of life. It represents the inevitable changes we will experience across our lifespan.
During this series we will explore, through tarot and movement, how to exercise the power of choice to stay centered amidst change.

Somatic means "relating to the body." In ArcanaDance, we bring tarot imagery, symbolism and meaning into the body so that tarot becomes a transformative embodied experience.
All are welcome! No tarot or dance experience is required. Tarot decks will be provided for use during class.
Drop-in or attend all four classes.
What to wear:
Wear loose comfortable clothes that you can easily move in. We dance barefoot so no shoes are required. If, for health reasons, you must wear shoes, please ensure that they are "indoor" shoes only.
Register:
Email jennifer@jenniferluceroearle.com
Payment Method:
Cash, Check, Square or PayPal (see below)
PayPal:
View previous series classes here.