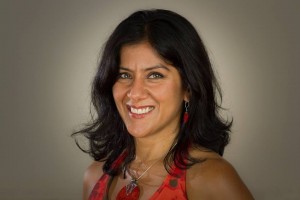 Let me move you! I offer classes, workshops, retreats and custom experiences with ArcanaDance™, Nia and Stretch and Fly.
I believe my purpose in life is to serve as a conduit for others to awaken to the wisdom and joy of the body.
I create and facilitate movement experiences that support you in having a more loving, kind, pleasurable, respectful and empowered relationship with your body. I want you to feel vital, whole, strong, flexible, mobile, stable and in harmony with your unique body.
Whether it's through ArcanaDance™, Nia, or Stretch and Fly, I am a masterful somatic facilitator, bringing compassion, playfulness and joy to any experience. My guidance is simple, clear and will allow you to move your body in ways that honor and align with your mental, emotional, physical and spiritual capabilities and values.
My maiden name, Lucero, means "bright star." I am excited to move, groove and share my light with you.
Movement Offerings
ArcanaDance™ – The tarot, embodied. If tarot cards could dance, this is what they'd look like!
Created by me, ArcanaDance™ is a fusion of tarot and movement that feels like dance therapy. Arcana is defined as a secret. Dance is defined as movement to music. When fused together, ArcanaDance™ is defined as a secret that is revealed through movement.
Nia, co-created by Debbie and Carlos Rosas, is a cardio-dance practice that combine 52 simple moves with dance arts, martial arts, and healing arts. Nia puts pleasure and joy at the center of your movement experience. I am licensed Black Belt Nia teacher and have additional training in the Nia 5 Stages of Self-Healing, MOVE IT and Moving to Heal. See Nia in action.
Stretch and Fly, co-created by me and Liziah Richards (www.liziahtherapies.com) is a unique empowering movement practice that combines simple dance moves and yoga. Experience original choreography that blends flowing movement and dynamic stillness.
Class Schedule
Also, see my calendar for special classes and events.

Nia in Dana Point – Fridays October 12, 19, 26 & November 2, 2018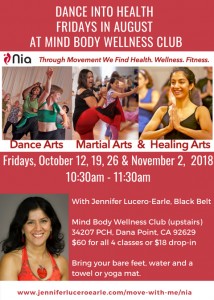 The Body Literacy Series
Join me for this introductory series focused on exploring body literacy and how to become more attuned to your body's signs signals.
To be literate means to read. To be body literate means to read the body and it's signs and signals. Essentially, body literacy is to know yourself fully and deeply.
In Nia, there are four languages we learn to become literate in our four bodies: the physical, mental, emotional and spiritual realms. We live our lives in all four realms and we always have the opportunity to become better attuned to the messages these realms have for us about how to live healthier and more fulfilling lives.
The physical realm is where we tune in to the messages of our physical body – from the skeletal and neuromuscular systems to the muscles, bones, joints, and connective tissue. The mental realm is where we tune in to our thinking mind – from our memory, beliefs, habits, creativity and consciousness. The emotional realm is where we tune into feeling – exploring our emotional depth and range and what information our feelings give us about how we move or can move through the world. The spiritual realm is where we tune in to the what makes us unique – from our connection with the divine/source/God to our values and what holds meaning for us.
In this series we will devote a class to learning how to embody deeper literacy with each of these realms – all through the practice of Nia routines that invite us into these explorations.
This series is excellent if you are new to Nia or want to deepen your practice.
Date: Fridays (see below), 10:30am – 11:30am
October 12, 2018 – Body Literacy with the Physical Realm
October 19, 2018 – Body Literacy with the Mental Realm
October 26, 2018 – Body Literacy with the Emotional Realm
November 2, 2018 – Body Literacy with the Spiritual Realm
Time: 10:30am – 11:30am
Location: Mind Body Wellness Club (upstairs), 34207 Pacific Coast Highway, Dana Point, CA 92629
Cost: $60 for the 4 week series or $18 drop-in
Come to one, two, three or all four classes. Drop-in's are welcome! 
Classes are one hour and practiced barefoot to soul-stirring music. Everyone is welcome. The choreography is simple to follow and you get to do it your own way. Start where you are and come explore your movement potential!
Payment: Cash, check, Venmo, Square or PayPal (below)
Payment: Cash, check, Venmo, Square or PayPal (below)
---
Nia in Newport Beach – Saturdays at 10:15am, October 13 – December 15, 2018 (Registration is open!)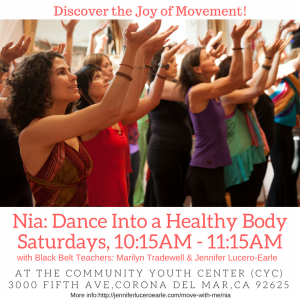 The next seven-week series of Nia on Saturdays in Newport Beach with me (Jennifer) and Marilyn Tradewell begins on October 13, 2018.
No classes will be held on: October 27, November 10 and November 24.
When: Saturdays from 10:15am – 11:15am
October 13
October 20
November 3
November 17
December 1
December 8
December 15
*No classes will be held on: October 27, November 10 and November 24.
Location: Community Youth Center (CYC), 3000 Fifth Ave, Corona del Mar, CA 92625
Register: Register through the City of Newport Beach website.
Registration is open!
Search for Nia: Dance Into a Healthy Body.
Instructors: Marilyn Tradewell and Jennifer Lucero-Earle
** The instructor is listed as Marilyn Tradewell, Black Belt. However, you get two Black Belt trained teachers for this class, Marilyn and me! We will co-teach all seven classes.
Class fees, two options:
1. All 7 classes: $110.00 (Resident), $120.00 (Non-resident)
2. Drop-in rate: $20 (Newport Beach Resident), $25.00 (Non-resident)
You can register for all seven classes online OR you can drop-in to any class for$20 (Resident), $25.00 (Non-resident).
Drop-in's can pay in person at the front deck at the Community Youth Center (CYC). The drop-in process is below.
To drop-in:
– Arrive about 10 minutes before class to check-in.
– Go to the Community Youth Center (CYC) front desk.
– The fee is $20 (Resident), $25.00 (Non-resident)
– You can pay via cash, check or credit card.
– If paying in cash, you must have the exact amount (they do not have change).
– If paying via check, make it payable to City of Newport Beach
– Then take your shoes off, go to the Corona del Mar room and let's dance!
**If after paying the drop-in fee you decide you want to do pay for the entire series, they will transfer your drop-in fee to pay for the series.
---
ArcanaDance™ – The Dance of Intuition: Exploring Inner Knowing through Tarot & Movement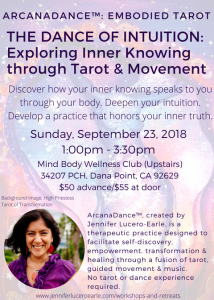 "Once you awaken your intuition and get in the habit of listening to and acting on it, every decision in your life will become reflective of your inner truth. The trick is not to try to work out all the answers in your head. Rather, take whatever information you need into your body, trust your gut, then dance or meditate or walk or do whatever you need to enter a relaxed state of being and you'll know what to do. You always have and you always will." – Gabrielle Roth

Date: Sunday, September 23, 2018
Time: 1:00pm – 3:30pm
Location: Mind Body Wellness Club (upstairs), 34207 Pacific Coast Highway, Dana Point, CA 92629
Cost: $50 in advance/$55 at the door
Payment: Cash, check, Venmo, Square or PayPal (below)
Register: Email jennifer@jenniferluceroearle.com
In the tarot, the High Priestess card represents the archetype of inner knowing, our intuition.
Intuition is not about seeing into the future, it's about hearing and honoring your inner truth. This archetype provides a loving framework for us to access, listen to and trust our inner knowing.
Coming to this ArcanaDance™ workshop will allow you to:
Discover how your inner knowing speaks to you through your body.
Deepen your intuition.
Develop a practice that honors your inner truth.
ArcanaDance™, created by Jennifer Lucero-Earle, is a therapeutic practice designed to facilitate self-discovery, empowerment, transformation & healing through a fusion of tarot, guided movement & music.
No tarot or dance experience required. All are welcome. Tarot decks will be provided for use during the workshop.
Pay via PayPal:
---
Special Classes:
See Nia and ArcanaDance special classes, workshops and retreat offerings here.
Bring a workshop or retreat to you
Invite me to customize an experience for your group, circle, organization, company or institution. I've facilitated custom movement experiences for sister circles, women's groups, wellness groups, the University of Washington (UW), UW Medicine, Seattle Yoni Ki Baat (YKB), Northwest Tarot Symposium, and The Readers Studio, an international tarot conference. I can bring a Tarot, Nia, ArcanaDance™ or Stretch and Fly Yoga Dance class, workshop or mini-retreat to you. Contact me at jennifer@jenniferluceroearle.com to discuss options.