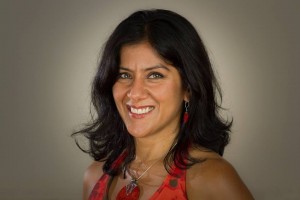 Let me move you! I offer classes, workshops, retreats and custom experiences with ArcanaDance, Nia and Stretch and Fly.
I believe my purpose in life is to serve as a conduit for others to awaken to the wisdom and joy of the body.
I create and facilitate movement experiences that support you in having a more loving, kind, pleasurable, respectful and empowered relationship with your body. I want you to feel vital, whole, strong, flexible, mobile, stable and in harmony with your unique body.
Whether it's through ArcanaDance, Nia, or Stretch and Fly, I am a masterful somatic facilitator, bringing compassion, playfulness and joy to any experience. My guidance is simple, clear and will allow you to move your body in ways that honor and align with your mental, emotional, physical and spiritual capabilities and values.
My maiden name, Lucero, means "bright star." I am excited to move, groove and share my light with you.
Movement Offerings
ArcanaDance – The tarot, embodied. If tarot cards could dance, this is what they'd look like!
Created by me, ArcanaDance is a fusion of tarot and movement that feels like dance therapy. Arcana is defined as a secret. Dance is defined as movement to music. When fused together, ArcanaDance is defined as a secret that is revealed through movement.
Nia, co-created by Debbie and Carlos Rosas, is a cardio-dance practice that combine 52 simple moves with dance arts, martial arts, and healing arts. Nia puts pleasure and joy at the center of your movement experience. I am licensed Black Belt Nia teacher and have additional training in the Nia 5 Stages of Self-Healing, MOVE IT and Moving to Heal. See Nia in action.
Stretch and Fly, co-created by me and Liziah Richards (www.liziahtherapies.com) is a unique empowering movement practice that combines simple dance moves and yoga. Experience original choreography that blends flowing movement and dynamic stillness.
Class Schedule
See my calendar for special classes and events.

After teaching Nia in Seattle for the past 7+ years I bid farewell to my beloved NiaSeattle community on Sunday, October 8, 2017. I plan to teach special classes in Seattle during my visits in the coming months and years. Until then, check this space for information about special upcoming Seattle classes and a new schedule in Southern California. Thank you, Seattle community, for truly some of the best years of my life.
---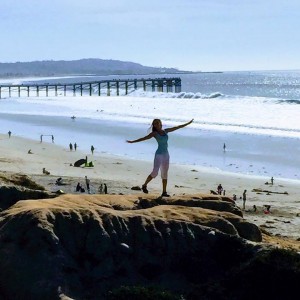 San Diego Nia Jam! FREE! 
Nia Jam
Join 10 teachers – from San Diego to Orange County (that's me!) to Los Angeles for a delicious outdoor Nia jam to welcome spring!
Date: Sunday, April 8, 2018
Time: 4:30pm – 6:00pm
Location: Law Street Beach (south end of Palisades Park), Pacific Beach Street parking in the area, but leave some time to find a spot.
Bring with you: shoes (to dance on the grass), water, snacks, a beach chair, blanket and/or towel, layers (in case it gets chilly) and your dancing spirit! Everyone welcome – no Nia experience required.
---
The Dance of the World: Honoring the Earth through Tarot & Movement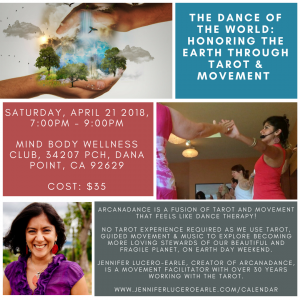 Date : Saturday, April 21, 2018
Time: 7:00pm – 9:00pm
Location: Mind Body Wellness Club, 34207 Pacific Coast Highway Dana Point, CA 92629
Cost: $35
To register email: jennifer@jenniferluceroearle.com
In this two-hour introductory ArcanaDance workshop, we will celebrate Earth Day weekend by using tarot and guided movement to music to explore how to become more loving stewards of our beautiful and fragile planet.
ArcanaDance is a fusion of tarot and movement that feels like dance therapy! Using imagery, music and guided movement prompts, ArcanaDance makes personal growth fun, empowering, multidimensional and transformative. Arcana is defined as a secret. Dance is defined as movement to music. When fused together, ArcanaDance is defined as a secret that is revealed through movement.
No tarot or dance experience required. All are welcome!
*Tarot decks and all other materials will be provided for use during the workshop. Simply bring yourself, a bottle of water and wear comfortable clothes to move in.
Payment options:
Pay in person via cash or check.
To pay via Venmo or Square, email Jennifer at jennifer@jenniferluceroearle.com and she will then send you an invoice.
To pay via PayPal, use purchase button below.
---
Embodying the Tarot: The Beginning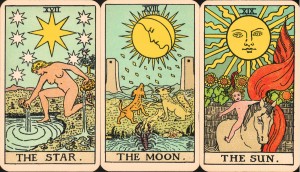 Dates: Tuesdays, April 10, 17 and 24, 2018
Time: 6:30pm – 8:30pm
Location: The Soul Project, 1516 South Coast Highway, Laguna Beach, CA 92651
Cost: $90
To register: http://www.soulproject.com/workshops/embodying-the-tarot-the-beginning
In this fun and informative introduction to Tarot you will be lead down the path of self exploration.
Who am I? What is my purpose?
Where do I feel called to share my unique gifts?
Why are there certain recurring themes in my life?
How can I find potential and opportunity in every moment in my life?
The tarot is a beautiful system for personal growth and evolution that helps us answer these soulful questions.
Embodying the Tarot: In this series, you will not only learn about the tarot, you will experience how to embody the full potential of your life path. Join us! The Beginning is a unique way to learn about the tarot.
Dates: Tuesdays (see below)
April 10 – Introduction to tarot and embodying the archetypes of your life path
April 17 – Exploration of your life path and teacher archetypes (cards)
April 24 – Embodying the full potential of your life path archetypes
Time: 6:30pm – 8:30pm
Cost: $90 for the series
All three sessions required; no drop-in's. No tarot experience required. All materials will be provided, including tarot decks for use during each session. Bring your curiosity, paper and a pen. Light refreshments will be served and you can enjoy a store wide discount (certain items excluded) during the workshop.
There are tarot cards that are unique to you and reflect the gifts you bring to every aspect of your life. We find those cards by using your life path numbers. When you register for the series, you will be asked send us your month, day and year of birth. The numbers calculated relate directly to tarot cards.
Register through The Soul Project website: http://www.soulproject.com/workshops/embodying-the-tarot-the-beginning
---
Nia in Dana Point – May 2018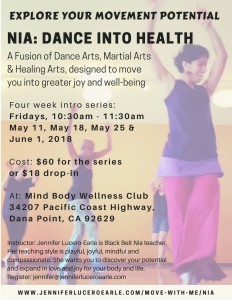 Explore your Movement Potential! Four weeks of Nia: Dance Into Health
Join me for this introductory series. Nia is a wellness and fitness format that combines the expressiveness of dance, the power and explosiveness of martial arts, and the mindfulness of the healing arts. The foundation of Nia is "through movement we find health." With over 52 movements that mobilize the base, core and upper extremities of your body, Nia is a holistic practice that creates a pathway for you to explore both your movement potential and capacity for wellness. As you learn to listen and respond to your body, you begin to feel increased joy and pleasure in movement, which inherently improves your well-being.
Date: Fridays (see below)
May 11, 2018 –  Explore the potential of the base of your body
May 18, 2018 – Explore the potential of the core of your body
May 25, 2018 – Explore the potential of your upper body
June 1, 2018 – Putting it all together – base, core and upper body!
Time: 10:30am – 11:30am
Location: Mind Body Wellness Club, 34207 Pacific Coast Highway Dana Point, CA 92629
Cost: $60 for the 4 week series or $18 drop-in
To register: jennifer@jenniferluceroearle.com
Payment: Cash, check, Venmo, Square or PayPal (see below)
Classes are one hour and practiced barefoot to soul-stirring music. Everyone is welcome. The choreography is simple to follow and you get to do it your own way. Start where you are and come explore your movement potential!
Pay via PayPal:
---
Nia in Newport Beach – Summer 2018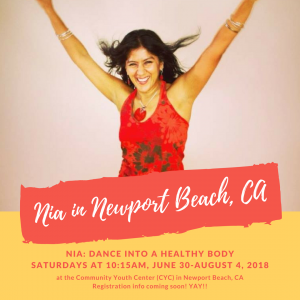 Nia in Newport Beach, CA
Nia is returning to Orange County, CA this summer! With huge heart thanks to long-time Nia teacher, Marilyn Tradewell, I'll be teaching Nia for 6 weeks this summer at the Community Youth Center (CYC) in Newport Beach, CA.
Registration will open in the coming months on the City of Newport Beach website. Search for Nia: Dance Into a Healthy Body.
When: Saturdays from 10:15am – 11:15am
June 30
July 7
July 14
July 21
July 28
August 4
Location: Community Youth Center (CYC), 3000 Fifth Ave, Corona del Mar, CA 92625
Come to all 6 classes or drop-in for one or more. Drop-in rate: $20
---
Special Classes:
See Nia and ArcanaDance special classes, workshops and retreat offerings here.
Bring a workshop or retreat to you
Invite me to customize an experience for your group, circle, organization, company or institution. I've facilitated custom movement experiences for sister circles, women's groups, wellness groups, the University of Washington (UW), UW Medicine, Seattle Yoni Ki Baat (YKB), Northwest Tarot Symposium, and The Readers Studio, an international tarot conference. I can bring a Tarot, Nia, ArcanaDance or Stretch and Fly Yoga Dance class, workshop or mini-retreat to you. Contact me at jennifer@jenniferluceroearle.com to discuss options.