Full Moon Sweet Release Ritual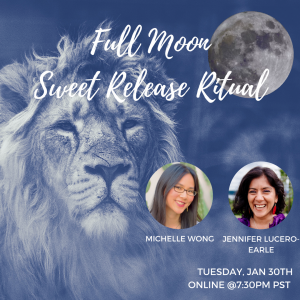 When: Tuesday, January 30th, 2018
Time: 7:30pm PST
The workshop will be one hour in length
Where: Online/virtual over Zoom (session will be recorded if you can't join live)
Investment: $18 USD
Please register here to secure your spot: https://www.paypal.com/cgi-bin/webscr?cmd=_s-xclick&hosted_button_id=3VUG8T6GWHSB6
(We will be emailing you a confirmation with the address you used through PayPal. Please let us know if you wish for us to use a different email account)
Questions? Please email: michelle@nonlinearpath.com or jennifer@jenniferluceroearle.com  
January's Full Moon in Leo is coming up!
You're invited to join a special Full Moon Sweet Release Ritual with Jennifer Lucero-Earle, Tarot + Movement facilitator, and Michelle Wong, Lifestyle + Wellness Strategist, on Tuesday Jan 30th at 7:30pm PST.
During the Full Moon, our intuition is heightened. As we tune into our deeper voice within, areas of our life that no longer serve us, or where we desire to breathe greater life into, call for our attention.
You will tap into your inner voice and learn practices to release what needs to go, forgive what needs to be forgiven, and have gratitude for what was, what is, and what is to come.
With the Full Moon in Leo, we'll also explore where in our life we need to bring in more self-care, self-love, and put our own needs at the center of our life, so we can expand our capacity to SHINE and feel VITAL.
We'll do some writing, work with Tarot, move our bodies and celebrate feeling lighter, brighter and more self-loving.
What we'll cover:
— Full Moon in Leo energy
— Releasing + forgiveness work
— Gratitude
— Tarot* play
— Movement to help ground the work
— Session will be recorded!
*Note: You do not need to have any Tarot experience, nor do you need to have your own Tarot deck.
---
I am thrilled to announce that I will be visiting Seattle, WA on Sunday, February 18, 2018 and will be teaching the 10:30am Nia class and a special ArcanaDance workshop studio from 2:00pm – 6:00pm. Both events will be held at Balance Studio in Fremont.
Nia Hamilton – Special Class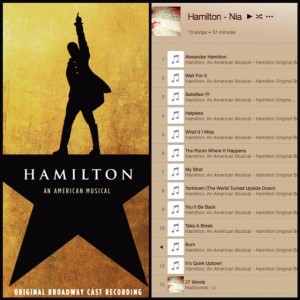 Don't throw away your shot! The Nia routine I created, instigated by Nia student and dear friend Anita Verna Crofts, to the music of the Broadway sensation, Hamilton: An American Musical, is returning to Seattle for an encore!
Date: Sunday, February 18, 2018
Time: 10:30 AM – 11:30 AM 
Location: Balance Studio (Fremont), 418 N. 35th St, Seattle, WA 98103
Cost: $15 (pay Jason at the door)
Huge thanks to Jason Alan Griffin for inviting me to teach at his regular time. I am so grateful!
---
The Dance of Emotional Alchemy:
Transforming Fear through Tarot & Movement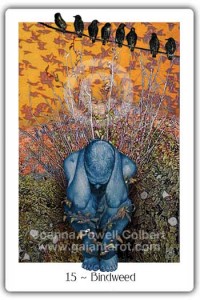 Date: Sunday, February 18, 2018
Time: 
2:00 PM – 6:00 PM 



Location: Balance Studio (Fremont), 418 N. 35th St, Seattle, WA 98103
Cost: $65 in advance/$75 at the door

To register email: jennifer@jenniferluceroearle.com
To alchemize is to transform. Fear can change us or motivate us to change.
Either way, it's powerful.
This ArcanaDance workshop is an invitation to use the powerful energy of fear to transform an aspect of your life into something empowering and supportive.
What you will experience:
A physical exploration of the archetype of fear.

Explore your unique imprint of fear.

Learn to use tarot as a tool to understand and reframe the emotional imprint of fear.

Discover ways to release and transform fear.
No tarot or dance experience is required. Tarot decks will be provided for use during the workshop.
ArcanaDance is a fusion of tarot and movement that feels like dance therapy! Using imagery, music and guided movement prompts, ArcanaDance makes personal growth fun, empowering, multidimensional and transformative.
Payment options:
Pay in person via cash or check.
To pay via Venmo or Square, email Jennifer at jennifer@jenniferluceroearle.com and she will then send you an invoice.
To pay via PayPal, use purchase button below.
---
See a list of previous workshops and retreats here.
---

Bring a workshop or retreat to you:
I can bring an ArcanaDance, Nia or Tarot workshop to you.
Contact me at jennifer@jenniferluceroearle.com to discuss options.
See a list of previous workshops and retreats here.
What people are saying:
Read testimonials.