Special Nia Class to the music of Hamilton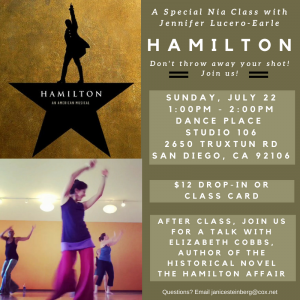 Date: Sunday, July 22, 2018
Time: 1:00pm – 2:00pm
Location: Dance Place San Diego, Studio 106, 2650 Truxtun Rd, San Diego, CA 92106, USA
Cost: $12
Payment: Pay in person n July 22 at Dance Place via cash or check to Janice Steinberg or Kriszti Van Slyke
Two and a half years ago I created a Nia routine to the music of the Broadway hit, Hamilton. More than a tale of a founding father, the story of immigrants, big dreams, love and loss spoke to me. And, it is so profound for me, as a Puerto Rican-Argentinian, to see so many beautiful people of color at the forefront of producing and starring in this show. My fellow Nia teachers, Janice Steinberg and Kriszti Van Slyke, have asked me to come and teach my Hamilton routine in San Diego on Sunday, July 22, 1:00pm at the Dance Place in San Diego. I hope you can join us!
After the Nia class, stay and join us for a talk and book signing with Elizabeth Cobbs, author of the historical novel, The Hamilton Affair.
---
ArcanaDance™ -Dancing Through Change: A Tarot Workshop with The Wheel of Fortune Card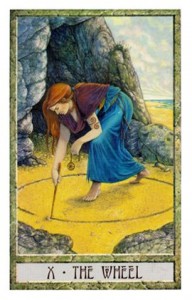 Date: Sunday, September 2, 2018
Time: 1:00pm – 3:30pm
Location: StudioNia Santa Fe, 851 W San Mateo Rd, Santa Fe, NM 87505
Cost: $35 in advance/$40 day of
Register: Link coming soon!
When we know how to dance with change, we are able to hold our center as things in our lives rise and fall, expand and contract, and decay and grow.
In the tarot, the Wheel of Fortune card is the archetype of the wheel of life. It represents the inevitable changes we will experience across our lifespan.
During this ArcanaDance™ workshop we will use tarot, movement, meditation and music to explore ways we can stay centered amidst change, keep perspective, adjust and adapt, and exercise choice. In is through the power of choice that we find peaceful empowerment amidst change.
About ArcanaDance™:
ArcanaDance™, created by Jennifer Lucero-Earle, is the the tarot, embodied. It is a fusion of tarot archetypes and movement that feels like dance therapy! Using imagery, music and guided movement prompts, ArcanaDance™ makes personal growth fun, empowering and transformative.
Arcana is defined as a secret. Dance is defined as movement to music. When fused together, ArcanaDance™ is defined as a secret that is revealed through movement.
ArcanaDance™ will move you from the inside out and outside in. As a practice, it can shift your consciousness and empower you to embrace, take action and create the life you desire. It is a dynamic physical, emotional and spiritual experience that is not to be missed!
No tarot or movement experience required! Wear comfortable clothes to move in, your bare feet, water and if you have a tarot deck you love – bring it. Tarot decks will be provided for us during the workshop.
See a list of previous workshops and retreats here.
---

Bring a workshop or retreat to you:
I can bring an ArcanaDance™, Nia or Tarot workshop to you.
Contact me at jennifer@jenniferluceroearle.com to discuss options.
See a list of previous workshops and retreats here.
---
What people are saying:
Read testimonials.