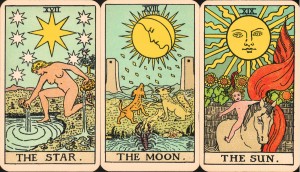 Embodying the Tarot: The Beginning
Dates: Tuesdays, April 10, 17 and 24, 2018
Time: 6:30pm – 8:30pm
Location: The Soul Project, 1516 South Coast Highway, Laguna Beach, CA 92651
Cost: $90
To register: http://www.soulproject.com/workshops/embodying-the-tarot-the-beginning
In this fun and informative introduction to Tarot you will be lead down the path of self exploration.
Who am I? What is my purpose?
Where do I feel called to share my unique gifts?
Why are there certain recurring themes in my life?
How can I find potential and opportunity in every moment in my life?
The tarot is a beautiful system for personal growth and evolution that helps us answer these soulful questions.
Embodying the Tarot: In this series, you will not only learn about the tarot, you will experience how to embody the full potential of your life path. Join us! The Beginning is a unique way to learn about the tarot.
Dates: Tuesdays, 6:30pm – 8:30pm
April 10 – Introduction to tarot and embodying the archetypes of your life path
April 17 – Exploration of your life path and teacher archetypes (cards)
April 24 – Embodying the full potential of your life path archetypes
Cost: $90 for the series
All three sessions required; no drop-in's. No tarot experience required. All materials will be provided, including tarot decks for use during each session. Bring your curiosity, paper and a pen. Light refreshments will be served and you can enjoy a store wide discount (certain items excluded) during the workshop.
There are tarot cards that are unique to you and reflect the gifts you bring to every aspect of your life. We find those cards by using your life path numbers. When you register for the series, you will be asked send us your month, day and year of birth. The numbers calculated relate directly to tarot cards.
Register through The Soul Project website: http://www.soulproject.com/workshops/embodying-the-tarot-the-beginning
---
The Dance of the World: Honoring the Earth through Tarot & Movement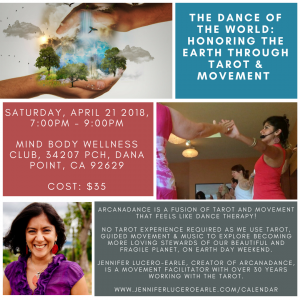 Date : Saturday, April 21, 2018
Time: 7:00pm – 9:00pm
Location: Mind Body Wellness Club, 34207 Pacific Coast Highway Dana Point, CA 92629
Cost: $35
To register email: jennifer@jenniferluceroearle.com
In this two-hour introductory ArcanaDance workshop, we will celebrate Earth Day weekend by using tarot and guided movement to music to explore how to become more loving stewards of our beautiful and fragile planet. 
ArcanaDance is a fusion of tarot and movement that feels like dance therapy! Using imagery, music and guided movement prompts, ArcanaDance makes personal growth fun, empowering, multidimensional and transformative. Arcana is defined as a secret. Dance is defined as movement to music. When fused together, ArcanaDance is defined as a secret that is revealed through movement.
No tarot or dance experience required. All are welcome!
*Tarot decks and all other materials will be provided for use during the workshop. Simply bring yourself, a bottle of water and wear comfortable clothes to move in.
Payment options:
Pay in person via cash or check.
To pay via Venmo or Square, email Jennifer at jennifer@jenniferluceroearle.com and she will then send you an invoice.
To pay via PayPal, use purchase button below.
See a list of previous workshops and retreats here.
---

Bring a workshop or retreat to you:
I can bring an ArcanaDance, Nia or Tarot workshop to you.
Contact me at jennifer@jenniferluceroearle.com to discuss options.
See a list of previous workshops and retreats here.
What people are saying:
Read testimonials.