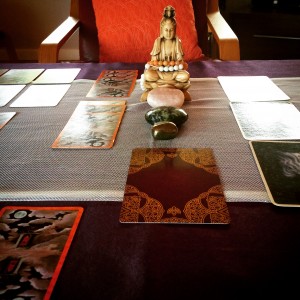 I've been working with the tarot for over thirty years. Since childhood, tarot has been the primary tool I use to get clear, to inspire creative options when I feel stuck, and to be my muse for movement. I bring to tarot counseling three decades of tarot knowledge, archetypal studies, somatic training, facilitation, coaching and counseling experience.
I do customized readings in person or via phone, Skype or Facetime.
Readings range from one to two hours with options to add additional time.
Tarot Counseling Options:
One hour – $130
75 minutes – $145
90 minutes – $160
Two hours  – $250
Each additional 30 minutes – $60
Special 90-minute Year Ahead (Birthday or 2017) Reading – $150
Tarot counseling sessions can be done via phone, Skype, FaceTime, Google Video, or in person in Seattle and Southern California (coming soon).
You can also schedule a tarot counseling session that includes additional time for a movement experience, usually dance, that will support you in embodying your reading.
To schedule an appointment: 
The first step is to complete a questionnaire. Download the Tarot Counseling Questionnaire and submit it to me via email jennifer@jenniferluceroearle.com.
Once I receive your questionnaire, I will contact you to schedule a date and time for an Embodied Tarot counseling session via phone, Skype, FaceTime, Google Video, or in person in Seattle or Southern California.
How it works:
I create a customized reading for you based on a Tarot Counseling Questionnaire. I use a variety of tarot and oracle decks for readings, which gives us an opportunity to explore images that resonate with you. During the session we will co-create a personalized embodiment practice based on your reading that you can complete on your own.
Payment: Cash, Check, Square or PayPal.
What people are saying:
Read testimonials.