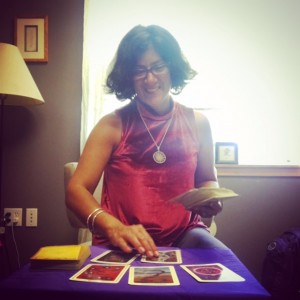 I've been working with the tarot for over thirty years. Since childhood, tarot has been the primary tool I use to get clear, to inspire creative options when I feel stuck, and to be my muse for movement. I bring to tarot readings three decades of tarot knowledge, archetypal studies, somatic training, facilitation, coaching and counseling experience.
Here's what I do best, I take your question(s) and customize a holistic experience for you that allows you to understand your reading from your thinking mind, your feeling heart, your sensory body and your unique spirit. I've been reading for myself and others for three decades. It's my sacred work and it's a privilege to serve as your guide.
Tarot Reading Options:
30 minutes – $65
One hour – $130
75 minute Year Ahead Reading (2018 or birthday) – $160
90 minutes – $180
Two hours  – $250
Each additional 30 minutes – $65
Tarot sessions can be done via phone, Skype, FaceTime, Google Video, or Zoom.
An audio recording is provided for all sessions.
In person sessions for both tarot reading and ArcanaDance™ one-on-one sessions will resume in select locations and times in the Fall 2018. In the interim, all sessions are via phone or online.
To schedule an appointment:
The first step is to complete a questionnaire. Download the Tarot Reading Questionnaire  and submit it to me via email jennifer@jenniferluceroearle.com.
Once I receive your questionnaire, I will contact you to schedule a date and time for an Embodied Tarot counseling session via phone, Skype, FaceTime, Google Video, or Zoom.
How it works:
I create a customized reading for you based on the completed Tarot Reading Questionnaire you send to me. I use a variety of tarot and oracle decks for our session, which gives us an opportunity to explore images that resonate with you. During the session we will co-create a personalized embodiment practice based on your reading that you can complete on your own. I record (audio) our session and will send a link to the recording to you within 48 hours.
Payment:
PayPal, Venmo or Square. If you select Square, I will send you an invoice via email.
What people are saying:
Read testimonials.