Buy classes, tarot counseling sessions, and workshops:
Nia Classes in Irvine, CA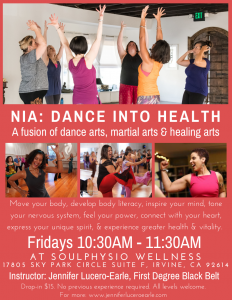 Move your body, develop body literacy, inspire your mind, tone your nervous system, feel your power, connect with your heart, express your unique spirit, & experience greater health & vitality.
Nia is a fusion of movement arts, 52 moves based on the functional form of the body, and a philosophy rooted in teaching love and reverence for your body and life. More deeply, it is an invitation for you to explore how you can maximize your joy as you dance through life and say yes to being transformed by the majesty of your body, mind, heart and spirit.
Each class has a focus and intent rooted in somatic education and 7 intentional cycles that take your body on a safe movement odyssey from warm up, get moving, cool down and floor play.
This class is open to everybody. No previous experience necessary. All movements are adaptable and modeled in levels.
Bring: your bare feet, water, a mat or towel for the end of class, and an open mind.
When: Fridays from 10:30am – 11:30am (through December 13. 2019)
Location: SoulPhysio Wellness, 17805 Sky Park Circle Suite F, Irvine, CA 92614
Drop-in rate: $15
Payment: Cash, Check, Venmo, or PayPal ($15.76)
Pay via PayPal:
---
ArcanaDance™ Presents –
The Dance of Presence: Living Fully & Deeply with Tarot & Movement
Date: Sunday, November 24, 2019
Time: 1PM – 3:30PM
Location: SoulPhysio Wellness, 17805 Sky Park Circle Suite F, Irvine, CA 92614
Cost: $40 in advance/$50 at the door
Payment: Venmo (Jennifer-Lucero-Earle), PayPal ($41.50), Cash or Check
To register: Email jennifer@jenniferluceroearle.com
During this ArcanaDance™ workshop we will explore, through tarot and movement, how to cultivate, strengthen and deepen our experience of presence in mind, body, heart and spirit.
Presence is a state of generosity. It is the practice of being in the moment and giving our full attention to whatever it is we are experiencing. When we are present we are saying to life, "I am here. I ready for anything." With our arms, heart, mind and senses wide open, we bring to the here and now our awareness, attention, awe, allowing, acceptance, and appreciation.
In the tarot, the World card is the culmination of living fully and deeply, amidst an understanding of the tension between life's limitations and potentials. As the archetype for wholeness, the World ask that we see the value, beauty, power and possibility in all of our life experiences and interactions. The World says to us, "be present with your body, breath, sensations, pain, pleasure, grief, joy, sadness, conflict, your loved ones, your adversaries, your dreams…all of these aspects contribute to the wholeness and fullness of life."   
Join us for this exploration of presence guided by the framework of the archetype of wholeness, the World.
This practice is unlike any tarot experience. We learn the tarot through the language of the body. We listen. We write. We dance. We do ritual. Our mind is suspended, our heart is held, and our soul speaks directly to us through the primal intelligence of our body. And a new story for our lives is written.
ArcanaDance™ is somatic tarot. Created by Jennifer Lucero-Earle, this therapeutic practice is designed to facilitate self-discovery, empowerment, transformation & healing through a fusion of tarot, guided movement & music.
No tarot or dance experience is required. Tarot decks will be provided for use during the workshop. Wear comfortable clothes to move freely.
Pay via PayPal:
---
Tarot Counseling
30 minutes – $75
One hour – $140
75 minute Year Ahead Reading (great for birthdays) – $170
90 minutes – $190
Two hours – $260 (most comprehensive and customized)
Two hours – Embodying the Archetypes of your Tarot Birth Cards – $225 (uses your month/day/year of birth)
Each additional 30 minutes – $70
Payment accepted: PayPal, Venmo or Square:
Pay via PayPal:
---
Tarot Consultation Packages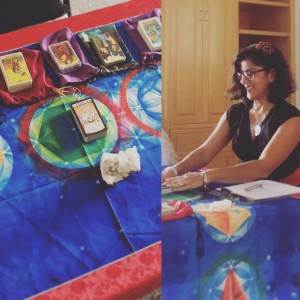 The following options are excellent if you'd like to work together over an extended period of time.
4 One-hour sessions per year – $550
6 One-hour sessions per year – $820
12 One-hour sessions per year – $1,650
12 Half-hour sessions per year – $820
2 Two-hour sessions per year – $500
Create your own package – contact Jennifer at jennifer@jenniferluceroearle.com
Payment accepted: PayPal, Venmo or Square::
Pay via PayPal:
---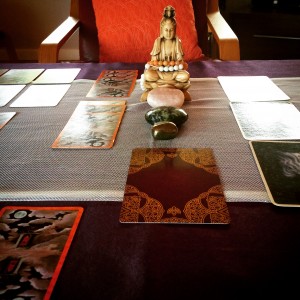 ArcanaDance One-on-One Sessions:
Instant Insights, Duration: 30 minutes, Cost: $150
Life Transition, Duration: 60 minutes, Cost: $225
Born Into Being, Duration: 90 minutes, Cost: $300
Future Focus, Duration: 120 minutes, Cost: $395
Payment accepted: PayPal, Venmo or Square::
Pay via PayPal:
---


Workshops and Retreats:
Stay tuned to learn of offerings throughout the country, including online, in the year ahead (2019).