Buy classes, tarot counseling sessions, and workshops:
ArcanaDance™ – The Dance of Divine Play: Embodied Storytelling, Tarot, and Movement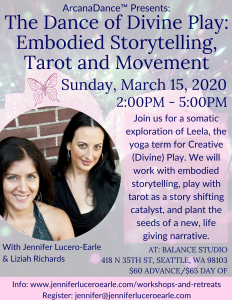 When: Sunday, March 15 , 2020
Time: 2:00PM – 5:00PM
Where: Balance Studio, 418 N 35th St, Seattle, WA 98103
Cost: $60 advance/$65 day of
Payment options: Venmo (Jennifer-Lucero-Earle), Zelle, PayPal, Credit Card, Check or Cash (additional fees for PayPal and credit card)
To register, email Jennifer at jennifer@jenniferluceroearle.com
Lila, or Leela, is a practice and philosophy in yoga that roughly translates into "creative play with the divine." It is spontaneous and vibrant energy that invites us to co-create our life in partnership with outside forces – nature, spirit, humanity, etc. We all carry narratives and stories about our history, present and in some ways, about our future. Divine play invites us to shift those narratives from a new lens, one rooted in a delightful dance with a generous, fun, ever-flowing, bountiful and loving Universe.
In the tarot, the Fool card is the archetype associated with trust and joy in the journey of life.
Some of our stories have been written. Some of those stories may desire a new narrative or mythology. There are stories eager to be written and new narratives waiting to be discovered. There can be joy and lightness in the creation of and sharing of story. The Fool will be our trusted guide and co-creative archetypal partner on our journey to create a personal narrative sourced from divine play.
What you will experience:
A somatic exploration of divine play
An introduction to embodied storytelling
Playing with tarot as a creative story-shifting catalyst
The seeds of a new narrative
ArcanaDance™ is somatic tarot. Created by Jennifer Lucero-Earle, this therapeutic practice is designed to facilitate self-discovery, empowerment, transformation & healing through a fusion of tarot, guided movement & music. No tarot or dance experience required.
There will be several tarot decks available for participants to use during the workshop. However, participants are welcome to bring a tarot deck of their own, if they have one they'd like to use.
Your Guides:
Jennifer Lucero-Earle is the creator of ArcanaDance™, a therapeutic somatic practice that fuses archetypes, self-inquiry and tarot with guided movement. She is also a First Degree Black Belt Nia teacher and movement facilitator with over 30 years of experience working with the tarot. What Jennifer loves most in the world is facilitating safe, non-judgmental, and culturally compassionate experiences for people to move, feel, heal, and grow into their most joyful self.
Liziah Richards is a mental health therapist, Yoga instructor, writer, and performing artist that is passionate about helping people. Through movement, therapeutic conversation, intuitive guidance and heart opening practices she supports people to live with more compassion and joy. She helps people heal from painful life experience and create new awareness and patterns that allow healthier relationship with self and others.
To register, email Jennifer at jennifer@jenniferluceroearle.com
Pay via PayPal:
---
Tarot Counseling
30 minutes – $75
One hour – $140
75 minute Year Ahead Reading (great for birthdays) – $170
90 minutes – $190
Two hours – $260 (most comprehensive and customized)
Two hours – Embodying the Archetypes of your Tarot Birth Cards – $225 (uses your month/day/year of birth)
Each additional 30 minutes – $70
Payment accepted: PayPal, Venmo or Square:
Pay via PayPal:
---
Tarot Consultation Packages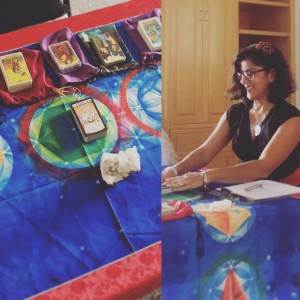 The following options are excellent if you'd like to work together over an extended period of time.
4 One-hour sessions per year – $550
6 One-hour sessions per year – $820
12 One-hour sessions per year – $1,650
12 Half-hour sessions per year – $820
2 Two-hour sessions per year – $500
Create your own package – contact Jennifer at jennifer@jenniferluceroearle.com
Payment accepted: PayPal, Venmo or Square::
Pay via PayPal:
---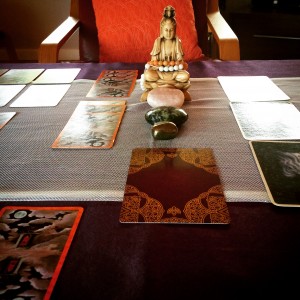 ArcanaDance One-on-One Sessions:
Instant Insights, Duration: 30 minutes, Cost: $150
Life Transition, Duration: 60 minutes, Cost: $225
Born Into Being, Duration: 90 minutes, Cost: $300
Future Focus, Duration: 120 minutes, Cost: $395
Payment accepted: PayPal, Venmo or Square::
Pay via PayPal:
---


Workshops and Retreats:
Stay tuned to learn of offerings throughout the country, including online, in the year ahead (2019).