Buy classes, tarot counseling sessions, and workshops:
The Dance of Emotional Alchemy: Transforming Fear through Tarot & Movement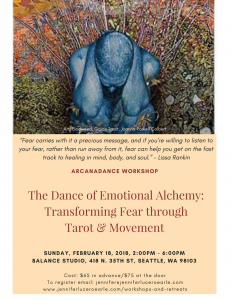 Date: Sunday, February 18, 2018
Time: 
2:00 PM – 6:00 PM
Location: Balance Studio (Fremont), 418 N. 35th St, Seattle, WA 98103
Cost: $65 in advance/$75 at the door
To register email: jennifer@jenniferluceroearle.com
To alchemize is to transform. Fear can change us or motivate us to change. Either way, it's powerful.
This ArcanaDance workshop is an invitation to use the powerful energy of fear to transform an aspect of your life into something empowering and supportive.
For more: http://jenniferluceroearle.com/workshops-and-retreats

---
Tarot Counseling:
Half hour – $65
One hour – $130
75 minutes – $160
90 minutes – $180
Two hours – $250
Each additional 30 minutes – $65
Payment accepted: PayPal, Venmo or Square:
Pay via PayPal:
---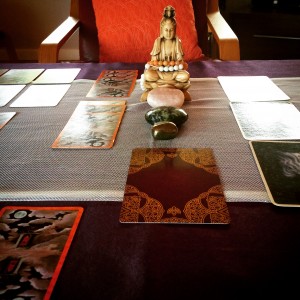 ArcanaDance One-on-One Sessions:
Instant Insights, Duration: 30 minutes, Cost: $150
Life Transition, Duration: 60 minutes, Cost: $225
Born Into Being, Duration: 90 minutes, Cost: $300
Future Focus, Duration: 120 minutes, Cost: $395
Payment accepted: PayPal, Venmo or Square::
Pay via PayPal:
---
Nia, ArcanaDance and Stretch & Fly:
Classes coming soon to Southern California. Stay tuned. for class cards can be used for all classes – Nia, Stretch & Fly, and ArcanaDance.
---

Workshops and Retreats:
Stay tuned to learn of offerings throughout the country, including online, in the year ahead (2018).