Buy classes, tarot counseling sessions, and workshops:
Nia in Dana Point – Fridays August 3, 10, 17 & 24, 2018 – Drop in's welcome!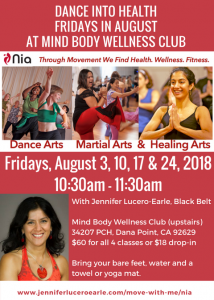 Join me for this introductory series focused on exploring your movement potential with Nia's Body's Way Principles. The way we move in Nia is based on the design of the individual body and how it needs to move to optimally support its design and structure.
The five Body's Way Principles are:
The Body Thrives on Dynamic Ease
The Body Demands Balance
The Body is Balanced in Yin and Yang
The Body's Way Demands Simultaneous Mobility & Stability
The Body Itself Reveals The Body's Way
Nia is a wellness and fitness format that combines the expressiveness of dance, the power and explosiveness of martial arts, and the mindfulness of the healing arts. The foundation of Nia is "through movement we find health." With 9 movement forms, 13 somatic principles and over 52 movements that mobilize your entire body, Nia is a holistic practice that creates a pathway for you to explore both your movement potential and capacity for wellness. As you learn to listen and respond to your body, you begin to feel increased joy and pleasure in movement, which inherently improves your well-being. This series is excellent if you are new to Nia or want to deepen your practice.
Date: Fridays (see below), 10:30am – 11:30am
August 3, 2018 – Moving with Dynamic Ease
August 10, 2018 – Moving with Balance
August 17, 2018 – Moving with Yin and Yang
August 24, 2018 – Moving with Simultaneous Mobility & Stability
Underlying all four classes will be the invitation to notice how your body reveals to you how it wants to move for optimal wellness. 
Time: 10:30am – 11:30am
Location: Mind Body Wellness Club (upstairs), 34207 Pacific Coast Highway, Dana Point, CA 92629
Cost: $60 for the 4 week series or $18 drop-in
Classes are one hour and practiced barefoot to soul-stirring music. Everyone is welcome. The choreography is simple to follow and you get to do it your own way. Start where you are and come explore your movement potential!
Payment: Cash, check, Venmo, Square or PayPal (below)

---
Tarot Counseling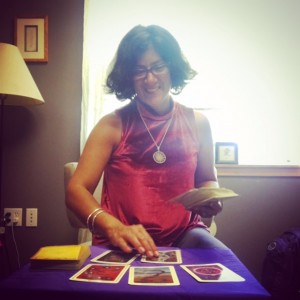 Half hour – $65
One hour – $130
75 minutes – $160
90 minutes – $180
Two hours – $250
Each additional 30 minutes – $65
Payment accepted: PayPal, Venmo or Square:
Pay via PayPal:
---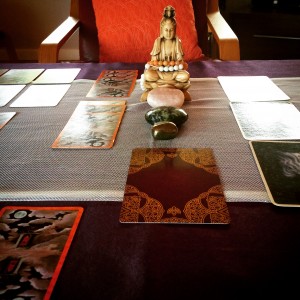 ArcanaDance One-on-One Sessions:
Instant Insights, Duration: 30 minutes, Cost: $150
Life Transition, Duration: 60 minutes, Cost: $225
Born Into Being, Duration: 90 minutes, Cost: $300
Future Focus, Duration: 120 minutes, Cost: $395
Payment accepted: PayPal, Venmo or Square::
Pay via PayPal:
---


Workshops and Retreats:
Stay tuned to learn of offerings throughout the country, including online, in the year ahead (2018).