ArcanaDance™ -Dancing Through Change: A Tarot Workshop with The Wheel of Fortune Card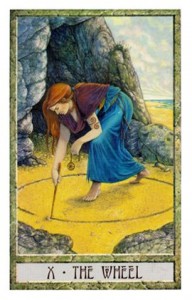 Date: Sunday, September 2, 2018
Time: 1:00pm – 3:30pm
Location: StudioNia Santa Fe, 851 W San Mateo Rd, Santa Fe, NM 87505
Cost: $35 in advance/$40 day of
Register: Link coming soon!
When we know how to dance with change, we are able to hold our center as things in our lives rise and fall, expand and contract, and decay and grow.
In the tarot, the Wheel of Fortune card is the archetype of the wheel of life. It represents the inevitable changes we will experience across our lifespan.
During this ArcanaDance™ workshop we will use tarot, movement, meditation and music to explore ways we can stay centered amidst change, keep perspective, adjust and adapt, and exercise choice. In is through the power of choice that we find peaceful empowerment amidst change.
About ArcanaDance™:
ArcanaDance™, created by Jennifer Lucero-Earle, is the the tarot, embodied. It is a fusion of tarot archetypes and movement that feels like dance therapy! Using imagery, music and guided movement prompts, ArcanaDance™ makes personal growth fun, empowering and transformative.
Arcana is defined as a secret. Dance is defined as movement to music. When fused together, ArcanaDance™ is defined as a secret that is revealed through movement.
ArcanaDance™ will move you from the inside out and outside in. As a practice, it can shift your consciousness and empower you to embrace, take action and create the life you desire. It is a dynamic physical, emotional and spiritual experience that is not to be missed!
No tarot or movement experience required! Wear comfortable clothes to move in, your bare feet, water and if you have a tarot deck you love – bring it. Tarot decks will be provided for us during the workshop.
---
ArcanaDance™ – The Dance of Intuition: Exploring Inner Knowing through Tarot & Movement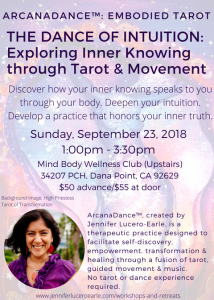 "Once you awaken your intuition and get in the habit of listening to and acting on it, every decision in your life will become reflective of your inner truth. The trick is not to try to work out all the answers in your head. Rather, take whatever information you need into your body, trust your gut, then dance or meditate or walk or do whatever you need to enter a relaxed state of being and you'll know what to do. You always have and you always will." – Gabrielle Roth
Date: Sunday, September 23, 2018
Time: 1:00pm – 3:30pm
Location: Mind Body Wellness Club (upstairs), 34207 Pacific Coast Highway, Dana Point, CA 92629
Cost: $50 in advance/$55 at the door
Payment: Cash, check, Venmo, Square or PayPal (below)
Register: Email jennifer@jenniferluceroearle.com
In the tarot, the High Priestess card represents the archetype of inner knowing, our intuition.
Intuition is not about seeing into the future, it's about hearing and honoring your inner truth. This archetype provides a loving framework for us to access, listen to and trust our inner knowing.
Coming to this ArcanaDance™ workshop will allow you to:
Discover how your inner knowing speaks to you through your body.
Deepen your intuition.
Develop a practice that honors your inner truth.
ArcanaDance™, created by Jennifer Lucero-Earle, is a therapeutic practice designed to facilitate self-discovery, empowerment, transformation & healing through a fusion of tarot, guided movement & music.
No tarot or dance experience required. All are welcome. Tarot decks will be provided for use during the workshop.
Pay via PayPal:
---
I am happy to bring an ArcanaDance™ experience to you in a class, workshop or retreat format. Simply contact me at jennifer@jenniferluceroearle.com

Stay tuned to my website to learn of offerings throughout the country, including online, in the year ahead (2018).
---
Bring a workshop or retreat to you:
I can bring an ArcanaDance™, Nia or Tarot workshop to you.
Contact me at jennifer@jenniferluceroearle.com to discuss options.
See a list of previous workshops and retreats here.
---
What people are saying:
Read testimonials.