The Art of Self-Care: A Tarot Workshop with the Empress Card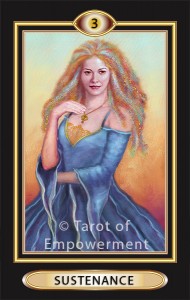 Date: Sunday, June 4, 2017
Time: 2:00 PM – 3:15 PM
Location: The Polarity Barn, 6482 Dick Woods Road, Charlottesville, VA 22903 (Map)
Cost: $15
Payment: Cash, Check or Square
Self-care is a continuous practice and choice to treat yourself with reverence.
If tarot cards could dance, this is what they'd look like!
Coming to this introductory ArcanaDance workshop will allow you to:
Discover your baseline of self-care.

Deepen your capacity for self-care.

Develop a practice that cultivates loving sustenance for your whole being.
ArcanaDance is a fusion of tarot and movement that feels like dance therapy! Using imagery, music and guided movement prompts, ArcanaDance makes personal growth fun, empowering, multidimensional and transformative.
No tarot or dance experience is required. Tarot decks will be provided for use during the workshop. Wear comfortable clothes to move freely.
Jennifer is thrilled to bring this introductory ArcanaDance workshop during her visit to Charlottesville, VA! 
Questions? Contact Jennifer at jennifer@jenniferluceroearle.com. 
---
Bring a workshop or retreat to you:
I can bring an ArcanaDance, Nia or Tarot workshop to you.
Contact me at jennifer@jenniferluceroearle.com to discuss options.
See a list of previous workshops and retreats here.
What people are saying:
Read testimonials.