Create a Vision, Move Your Body & Seal it with Sound:
A New Year Intention-Setting class blending Tarot, Nia, ArcanaDance™ & Sound Bath
with Jennifer Lucero-Earle & Brooke Lowe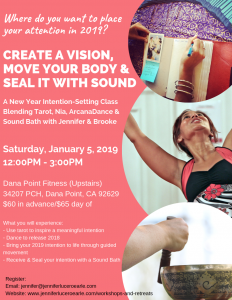 Date: Saturday, January 5, 2019
Time: 12:00PM – 3:00PM
Location: Dana Point Fitness (formerly Mind Body Wellness Club), 34207 Pacific Coast Highway, Dana Point, CA 92629
*Studio is located upstairs
Cost: $60 in advance/$65 day of
The first two hours are comprised of intention-setting with Tarot, Nia & ArcanaDance™ with Jennifer Lucero-Earle. The last hour from 2:00pm – 3:00pm is a Sound Bath with Brooke Lowe.
Option to attend first two hours (Tarot, Nia & ArcanaDance™) for $40 advance/$45 day of OR Sound Bath only for $20 advance/$25 day of.
Where do you want to place your attention in the year ahead? If you have an idea for an intention or simply want to invite one to surprise you, join us for this new year intention-setting class!
What you will experience:
Use tarot imagery to inspire a meaningful intention for your life in 2019.
Dance to release 2018 and welcome 2019 to a classic Nia routine (no experience required).
Bring your 2019 intention to life through guided movement with ArcanaDance™.
Receive and seal your intention with the healing resonance of a Sound Bath guided by Brooke Lowe.
No tarot or movement experience required. Tarot decks will be provided for use during the workshop. We will also provide paper, pens, and light snacks.
What to bring:
Wear comfortable clothes to move in freely, bring a water bottle, a journal (optional), your own tarot deck if there's one you love, a yoga mat, blanket, pillow or anything else that will provide you with physical comfort during the sound bath.
Your guides: Jennifer Lucero-Earle and Brooke Lowe
Jennifer Lucero-Earle is a magician of the soul. She uses music, movement and powerful storytelling to shift your mind, heart, spirit and body to higher vibrations.  Jennifer is an embodied diviner, the creator of ArcanaDance™, a First Degree Black Belt Nia teacher and movement facilitator with over 30 years of experience working with the tarot. Her charge in life is to facilitate safe non-judgmental experiences for people to move, feel, heal, and grow into a more joyful self through tarot and on the dance floor of life. She achieves this charge through teaching classes and workshops and seeing both tarot and coaching clients one-on-one.
Brooke Lowe is a sound healer and personal coach. In a sound bath, a mix of singing bowls, chimes, drums, gongs and other instruments connect to the vibrations in your body. You get comfortable and chill, and Brooke does the work to bathe you in relaxing sounds to reduce stress and anxiety, massage your body with the vibrations, and help you achieve a higher state of consciousness. In her coaching practice, Brooke specializes in Family Constellation Therapy, an experiential treatment that looks at how your family systems, patterns and ancestral experiences affect your life today, then focuses on resolving relationships that are out of balance and healing family issues. Brooke loves playing in the energetic realm. She believes in the power of movement, music and art to support deep emotional transformation, and is honored to support others in their transformations and healing.
Reserve your spot:
Email Jennifer at jennifer@jenniferluceroearle.com
Payment: Cash, check, Venmo, Square or PayPal (below)
---
Dancing with The Devil: A Somatic Exploration of the Shadow (at the Northwest Tarot Symposium)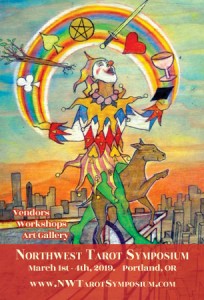 I am thrilled to announce that I will be presenting an ArcanaDance workshop at the 5th Annual Northwest Tarot Symposium (NWTS).
*You must be registered for NWTS to attend. There are several registration options, including day passes, here.
The 2019 Northwest Tarot Symposium (NWTS) will be held March 1st – 4th, 2019 at the Monarch Hotel & Conference Center 12566 SE 93rd Ave Clackamas, OR 97015
Dancing with The Devil: A Somatic Exploration of the Shadow
Date: Saturday, March 2, 2019
Time: 3:30PM – 4:50PM
Somatic means "relating to the body." The body is not only where we experience life, it is the frontier of our transformation. What if you knew your clients could understand more deeply the physical imprint their shadow leaves on their bodies? What if they could mobilize that raw shadow energy and transform it, like an alchemist, into something new?
This experiential workshop brings the tarot to life through the body.
You will learn how to translate shadow language into a deep and wide somatic experience. The Devil will serve as our archetypal guide as we move to the rhythms of the shadow, appreciate its lessons and discover new ways to use its physical energy.
ArcanaDance™, created by Jennifer Lucero-Earle, is a therapeutic practice designed to facilitate self-discovery, empowerment, transformation & healing through a fusion of tarot, guided movement & music. No tarot or dance experience required.
For more about NWTS and to register: www.nwtarotsymposium.com
---
Bring a workshop or retreat to you:
I am happy to bring an ArcanaDance™, Tarot or Nia experience to you in a class, workshop or retreat format. Simply contact me at jennifer@jenniferluceroearle.com
Stay tuned to my website to learn of offerings throughout the country, including online, in the year ahead (2019).
---
List of workshops and retreats:
See a list of previous workshops and retreats here.
---
What people are saying:
Read testimonials.