Following is the last day-long workshop I will be hosting in Seattle for 2017. There are limited spots for this workshop.
Taking a Leap of Faith: A Tarot Workshop with the Fool Card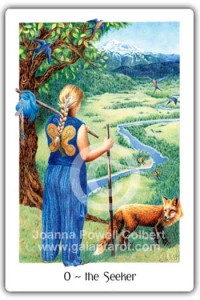 Date: Saturday, September 9, 2017
Time: 11:00AM – 5:00PM
Location: Private Home in North Seattle, address provided upon registration
Cost: $120 by September 1, $135 after September 1, 2017
Payment: Cash, Check, PayPal or Square
To register email: jennifer@jenniferluceroearle.com
"The Seeker begins a journey, taking a moment to contemplate the road ahead before setting off down the hillside…her life lies before her like a page waiting to be written…who knows what surprises may await her?" – Joanna Powell Colbert, creator of the Gaian Tarot
What is something new and undefined that you are ready and willing to say yes to in your life?
In the tarot, the Fool card is the archetype of the seeker. She marks a new beginning.
During this workshop we will use tarot and movement to explore taking a leap of faith into unchartered territory.

Let's say YES to adventure together!
I chose this archetype to capture the leap of faith I am taking in moving to a new city and state. We don't know exactly where we are going and the Fool is inviting us on a trust walk, to seize the adventure of not knowing and allowing the way to reveal itself. Like a youngster readying to leave the nest beyond the familiar, the Fool is the guide that says, "my love, spread your wings, there's a whole world out there waiting for your exploration."
To pay via PayPal:
---
Bring a workshop or retreat to you:
I can bring an ArcanaDance, Nia or Tarot workshop to you.
Contact me at jennifer@jenniferluceroearle.com to discuss options.
See a list of previous workshops and retreats here.
What people are saying:
Read testimonials.