ArcanaDance™ – Ignite, Imagine, Intuit & Initiate: Exploring the Four Aces of the Minor Arcana with Tarot & Movement (via Zoom)
Date: Saturday, June 24, 2023
Workshop Time: 12:00PM PDT – 2:00PM PDT (two hours)

Time Zones: 12:00PM PDT | 1:00PM MDT | 2:00PM CDT | 3:00PM EDT

Pay what you can in exchange, recommended: $35-$60
Register: https://us02web.zoom.us/meeting/register/tZAlcu-ppz0qH9Wim5yjsmjpx8C3YYxRQGM3#/registration

Join us for ArcanaDance™ – Ignite, Imagine, Intuit & Initiate: Exploring the Four Aces of the Minor Arcana with Tarot & Movement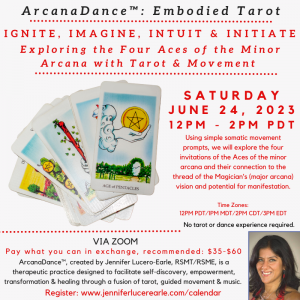 The workshop is two hours, held live via Zoom and will not be recorded.
During this ArcanaDance™ workshop we will explore, through tarot and movement, the four invitations of the Aces of the minor arcana:
– Ace of Wands/Fire – Ignite
– Ace of Swords/Air – Imagine
– Ace of Cups/Water – Intuit
– Ace of Pentacles/Earth – Initiate
In the tarot, the four Aces are the beginnings of their element/suit. Each one contains the full potential available for the journey ahead. And each one is connected to the thread of the Magician's (major arcana) vision and potential for manifestation.
We will explore embodied movement patterns with each Ace and using additional tarot cards, we will discover what aspects of our lives we feel ready a fresh start, full of potential and wrapped in magic!
No tarot or dance experience is required.
ArcanaDance™ is a fusion of tarot and movement that feels like dance therapy! Using imagery, music and guided movement prompts, ArcanaDance™ makes personal growth fun, empowering, multidimensional and transformative
What to bring with you:
A journal, pen, and tarot deck.
If you do not have a tarot deck, Jennifer will send you links to some online apps that you can use for the workshop.
After registering, you will receive a confirmation email containing information about joining the class/meeting.
Pay what you can in exchange for this two-hour workshop (recommended: $35-$60):
*This workshop will not be recorded. ArcanaDance™ experiences are personal. To protect our personal and collective privacy of the group, the workshop will not be recorded.
---
To be rescheduled for sometime in 2023…

ArcanaDance™ – The Dance of Divine Play: Embodied Storytelling, Tarot, and Movement – To be Rescheduled once Coronavirus Pandemic stabilizes and passes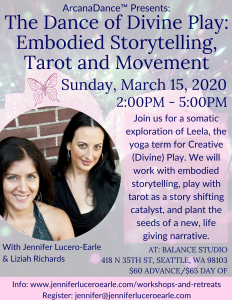 Lila, or Leela, is a practice and philosophy in yoga that roughly translates into "creative play with the divine." It is spontaneous and vibrant energy that invites us to co-create our life in partnership with outside forces – nature, spirit, humanity, etc. We all carry narratives and stories about our history, present and in some ways, about our future. Divine play invites us to shift those narratives from a new lens, one rooted in a delightful dance with a generous, fun, ever-flowing, bountiful and loving Universe.
In the tarot, the Fool card is the archetype associated with trust and joy in the journey of life.
Some of our stories have been written. Some of those stories may desire a new narrative or mythology. There are stories eager to be written and new narratives waiting to be discovered. There can be joy and lightness in the creation of and sharing of story. The Fool will be our trusted guide and co-creative archetypal partner on our journey to create a personal narrative sourced from divine play.
What you will experience:
A somatic exploration of divine play
An introduction to embodied storytelling
Playing with tarot as a creative story-shifting catalyst
The seeds of a new narrative
ArcanaDance™ is somatic tarot. Created by Jennifer Lucero-Earle, this therapeutic practice is designed to facilitate self-discovery, empowerment, transformation & healing through a fusion of tarot, guided movement & music. No tarot or dance experience required.
There will be several tarot decks available for participants to use during the workshop. However, participants are welcome to bring a tarot deck of their own, if they have one they'd like to use.
Your Guides:
Jennifer Lucero-Earle is the creator of ArcanaDance™, a therapeutic somatic practice that fuses archetypes, self-inquiry and tarot with guided movement. She is also a somatic therapist-in-training and movement facilitator with over 30 years of experience working with the tarot. What Jennifer loves most in the world is facilitating safe, non-judgmental, and culturally compassionate experiences for people to move, feel, heal, and grow into their most joyful self.
Liziah Richards is a mental health therapist, Yoga instructor, writer, and performing artist that is passionate about helping people. Through movement, therapeutic conversation, intuitive guidance and heart opening practices she supports people to live with more compassion and joy. She helps people heal from painful life experience and create new awareness and patterns that allow healthier relationship with self and others.
---
Online Course in Winter 2020: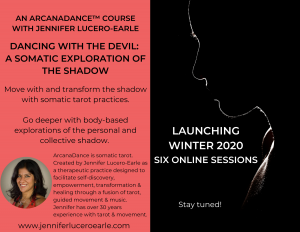 Stay tuned for more information. Early next year, I will be launching the first online ArcanaDance™ course.
An ArcanaDance Course with Jennifer Lucero-Earle
Dancing with the Devil: A Somatic Exploration of the Shadow
In the tarot, The Devil represents the archetype of the shadow. The shadow embodies any part of us that we've banished to the dark – the parts of us we've denied expression, exposure and discovery. The shadow also reveals to us a complex relationship with power. Who, what, where and how do you give your power over, and at what cost?
Somatic means "relating to the body." The body is not only where we experience life, it is the frontier of our transformation. ArcanaDance™ brings the tarot to life through the body. In this course you will learn about the physical imprint of the shadow as expressed and experienced through the language of the body. You will also learn how to use and transform the contractive energy of the shadow into something new and more expansive.
Join us for Six Online Sessions:
Intro to the Shadow via Somatic Tarot
Exploring the Personal Shadow
Exploring the Collective Shadow
Moving with the Shadow
Transforming the Shadow
Shadow Council
Delivery methods:
Live sessions (will be recorded)
PDF lessons with journaling prompts
Short video lessons (movement) with accompanying suggested playlists
Office Hours/Q&A via Private Facebook Group
More information to come!
---
Bring a workshop or retreat to you:
If you are interested in hosting me to bring an ArcanaDance workshop or experience to your community or group, please contact me directly at jennifer@jenniferluceroearle.com. I enjoy customizing ArcanaDance workshops for both private and public groups.
Stay tuned to my website to learn of offerings throughout the country, including online, in the year ahead (2020).
---
List of workshops and retreats:
See a list of previous workshops and retreats here.
---
What people are saying:
Read testimonials.