The Dance of Emotional Alchemy:
Transforming Fear through Tarot & Movement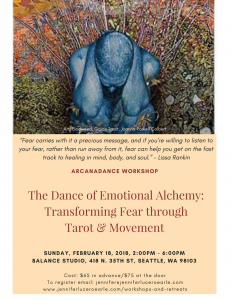 Date: Sunday, February 18, 2018
Time: 
2:00 PM – 6:00 PM 



Location: Balance Studio (Fremont), 418 N. 35th St, Seattle, WA 98103
Cost: $65 in advance/$75 at the door

To register email: jennifer@jenniferluceroearle.com
To alchemize is to transform. Fear can change us or motivate us to change.
Either way, it's powerful.
This ArcanaDance workshop is an invitation to use the powerful energy of fear to transform an aspect of your life into something empowering and supportive.
What you will experience:
A physical exploration of the archetype of fear.

Explore your unique imprint of fear.

Learn to use tarot as a tool to understand and reframe the emotional imprint of fear.

Discover ways to release and transform fear.
No tarot or dance experience is required. Tarot decks will be provided for use during the workshop.
ArcanaDance is a fusion of tarot and movement that feels like dance therapy! Using imagery, music and guided movement prompts, ArcanaDance makes personal growth fun, empowering, multidimensional and transformative.
Payment options:
Pay in person via cash or check.
To pay via Venmo or Square, email Jennifer at jennifer@jenniferluceroearle.com and she will then send you an invoice.
To pay via PayPal, use purchase button below.
---

I am happy to bring an ArcanaDance experience to you in a class, workshop or retreat format. Simply contact me at jennifer@jenniferluceroearle.com

Stay tuned to my website to learn of offerings throughout the country, including online, in the year ahead (2018).
---
Bring a workshop or retreat to you:
I can bring an ArcanaDance, Nia or Tarot workshop to you.
Contact me at jennifer@jenniferluceroearle.com to discuss options.
See a list of previous workshops and retreats here.
What people are saying:
Read testimonials.