Dancing with the Moon: Embodying the Rhythms of the Lunar Cycles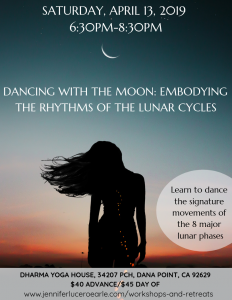 When: Saturday, April 13, 2019
Time: 6:30PM – 8:30PM
Location: Dharma Yoga House, 34207 Pacific Coast Highway, Dana Point, CA 92629
*Studio is located upstairs
Cost: $40 advance/$45 day of
Each lunar cycle has its own essence and somatic expression. In this workshop, we will move with the signature movements of each of the 8 major lunar phases. When we embody these essences, we remember that we are intertwined with the power and majesty of nature. Come experience the embodiment of ebbing and flowing, waxing and waning, hiding and revealing, and fertile darkness to luminous power.
Payment: Cash, check, Venmo, Square or PayPal
Venmo: Jennifer-Lucero-Earle
---
Online Course Launching Summer 2019: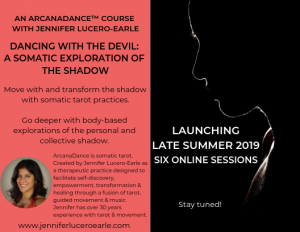 Stay tuned for more information. Later this Summer, I will be launching the first online ArcanaDance™ course.
An ArcanaDance Course with Jennifer Lucero-Earle
Dancing with the Devil: A Somatic Exploration of the Shadow
In the tarot, The Devil represents the archetype of the shadow. The shadow embodies any part of us that we've banished to the dark – the parts of us we've denied expression, exposure and discovery. The shadow also reveals to us a complex relationship with power. Who, what, where and how do you give your power over, and at what cost?
Somatic means "relating to the body." The body is not only where we experience life, it is the frontier of our transformation. ArcanaDance™ brings the tarot to life through the body. In this course you will learn about the physical imprint of the shadow as expressed and experienced through the language of the body. You will also learn how to use and transform the contractive energy of the shadow into something new and more expansive.
Join us for Six Online Sessions:
Intro to the Shadow via Somatic Tarot
Exploring the Personal Shadow
Exploring the Collective Shadow
Moving with the Shadow
Transforming the Shadow
Shadow Council
Delivery methods:
Live sessions (will be recorded)
PDF lessons with journaling prompts
Short video lessons (movement) with accompanying suggested playlists
Office Hours/Q&A via Private Facebook Group
More information to come!
---
Bring a workshop or retreat to you:
I am happy to bring an ArcanaDance™, Tarot or Nia experience to you in a class, workshop or retreat format. Simply contact me at jennifer@jenniferluceroearle.com
Stay tuned to my website to learn of offerings throughout the country, including online, in the year ahead (2019).
---
List of workshops and retreats:
See a list of previous workshops and retreats here.
---
What people are saying:
Read testimonials.