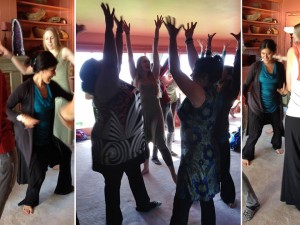 About ArcanaDance™
If tarot cards could dance, this is what they'd look like!
ArcanaDance™, created by Jennifer Lucero-Earle, is a fusion of tarot and movement that feels like dance therapy! Using imagery, music and guided movement prompts, ArcanaDance™ makes personal growth fun, empowering and transformative.
Arcana is defined as a secret. Dance is defined as movement to music. When fused together, ArcanaDance™ is defined as a secret that is revealed through movement.
ArcanaDance™ will move you from the inside out and outside in. As a practice, it can shift your consciousness and empower you to embrace, take action and create the life you desire. It is a dynamic physical, emotional and spiritual experience that is not to be missed!
ArcanaDance™ Experiences
ArcanaDance™ experiences are powerful and healing. Whether through a class experience, workshop, retreat or individual session, ArcanaDance™ is designed to deepen your understanding of emotional and physical responses to life experiences. While each person's experience may vary, participants regularly report a greater depth of clarity and readiness to make changes, large and small, in their lives.
Experience ArcanaDance™
There are several ways to experience ArcanaDance™:
Your body knows what to do. No tarot or dance experience is required.
What people are saying:
Read testimonials.