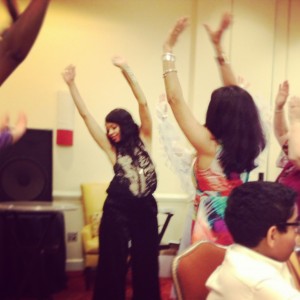 About ArcanaDance™
ArcanaDance™ is a dynamic physical, emotional and spiritual experience. Using tarot cards, tarot-inspired music and guided movement prompts, AcanaDance™ invites you to engage in a deeper understanding of your past, current and future realities. ArcanaDance™ provides you with the cognitive and somatic understanding needed to embrace, take action and create the life you desire.
ArcanaDance™ Experiences
ArcanaDance™ experiences are powerful and healing. They facilitate participants' abilities to deepen their understanding of emotional and physical responses to life experiences. While each person's experience may vary, participants regularly report a greater depth of clarity and readiness to make changes, large and small, in their lives.
While ArcanaDance™ may be experienced as a large or small group, one-on-one sessions offer you the opportunity to delve further into the experience. One-on-one sessions allow you to apply what you learn about your various realities through somatic embodiment.
ArcanaDance™ one-on-one sessions are available via Skype, Google Hangout, or Zoom.
ArcanaDance™ one-on-one sessions will resume in select locations and times (including Southern California and Seattle) in the Spring 2018. In the interim, all sessions will take place online.
Session contents are as listed below.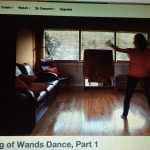 Instant Insights, Duration: 30 minutes, Cost: $150
In Instant Insights we explore a card of your choice through conversation and movement. We guide you through a customized dance, allowing you to glean the archetypal wisdom of the card through your moving body.
Includes: Songs (1), Moves (2-3), *Audio recording
Life Transition, Duration: 60 minutes, Cost: $225 
Whether your questions are about your relationship, family, career, personal growth, spiritual direction, one of the most powerful ways to gain clarity and make desired changes in your life is to mobilize your tarot reading. After receiving your three-card, single question tarot reading about your Life Transition, we help you to embrace your newly identified direction through movement and inspired music.
Includes: Songs (3), Moves (5-6), *Audio recording
Born Into Being, Duration: 90 minutes, Cost: $300 
During Born Into Being we explore your birth cards, discuss how their energies have shown up in your life, and their potential to influence your personal growth and life direction. Once discussed, we alchemize the experience by connecting the learning to movement, allowing you to more deeply embody your understanding of your birth cards.
Includes: Songs (6-7), Moves (10-12), Birth Card Tarot reading, *Audio recording, **Video recording

Future Focus, Duration: 120 minutes, Cost: $395 
Future Focus offers an opportunity to look ahead and create clarity, rhythms and actions that will lead you to the life you want. Beginning with a comprehensive tarot reading that is then followed by an hour-long counseling and movement experience, this session will provide the forecast and insights needed to create an enduring personal and somatics based action plan.
Includes: Songs (6-7), Moves (10-12), Comprehensive Tarot reading, *Audio recording, **Video recording
*Audio recording (Available for up to six months after your session)
**Video recording (Available online for up to 60 days after your session)
To schedule an appointment:
Email me at jennifer@jenniferluceroearle.com. In your email, tell me what type of session you are interested in and whether you'd like to attend the session via Skype, Facetime, Google Video or Zoom.
The first step is to schedule an appointment. Once we schedule a date and time for a session, you will submit payment.
Payment:
PayPal, Venmo or Square. If you select Square, I will send you an invoice via email.
Pay via PayPal: