Soul Alchemy Collab is me – Jennifer Lucero-Earle, Elissa Strutton and Brooke Lowe Johnson. We are three fired up, Orange County based women bringing you workshops, classes and retreats to elevate your best self and find joy in movement, creativity and play!
Meet the Team
Jennifer Lucero-Earle, Magician of the Soul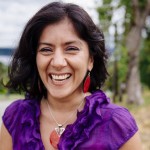 Jennifer is the creator of ArcanaDance, a unique somatic tarot practice that fuses archetypes with the language of the body. She is also a First Degree Black Belt Nia teacher and movement facilitator with over 30 years experience working with the tarot. Jennifer weaves together music, somatic movement and storytelling to create experiences of embodied transformation. She draws from her educational training and real life experiences in physiological psychology, creative writing, experiential healing, somatic education, strands of indigenous cultural traditions (with respect and credit), and career counseling to guide people to new depths of self-discovery and self-determination. What Jennifer loves most in the world is facilitating safe non-judgmental and culturally compassionate experiences for people to move, feel, heal, and grow into their most joyful self.
Elissa Strutton, Movement Artist: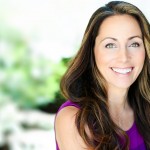 As an educator and yoga guide, Elissa's approach to movement and self-care draws from over 13 years of teaching experience, extensive training, continued study of asana, philosophy, anatomy and biomechanics along with a commitment to personal practice, self-inquiry and steady pursuit of healing and growth. An artist at heart and student for life, Elissa's creativity, intuitive nature and expertise provides a solid foundation for helping her students discover effective tools and practices to reduce stress, alleviate tension, move with integrity and restore their sense of well-being. Her classes blend breath work, focused intention, asana, dynamic movement and guided self-massage techniques to create a purposeful, engaging and embodied experience.
Brooke Lowe Johnson, Creative Vibes Curator: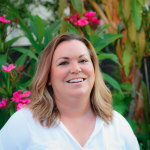 Brooke is a sound healer, energy-connected dance guide, and creative coach. Through education and personal transformation experiences she has discovered the value of creative expression in overall wellness. Whether through sound meditation, somatic movement or artistic endeavors, Brooke guides people in uncovering their own self-discovery transformation. In a sound meditation, a mix of singing bowls, chimes, drums, gongs and other instruments connect to the vibrations in your body. You get comfortable and chill, and Brooke does the work to bathe you in relaxing sounds to reduce stress and anxiety, massage your body with the vibrations, and help you achieve a higher state of consciousness.
---
Desert Magic Retreat – February 21-23, 2020 in Yucca Valley, CA
Connect.Dream.Create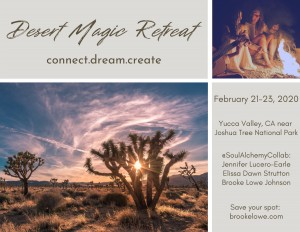 A Soul Alchemy Collab retreat featuring Jennifer Lucero-Earle, Elissa Dawn Strutton & Brooke Lowe Johnson.
When: February 21-23, 2020
Friday afternoon to Sunday afternoon
Where: Yoga Barn Ranch, Yucca Valley, CA, Minutes from Joshua Tree National Park
3 days/2 nights, all inclusive retreat
From: $694 – $999 (varies with accommodations you select)
Deposit: $333
Early Registration: Pay in full by 12/31/19 and save $50 off the standard rate
Payment Plans available!
More info and registration: https://www.brookelowe.com/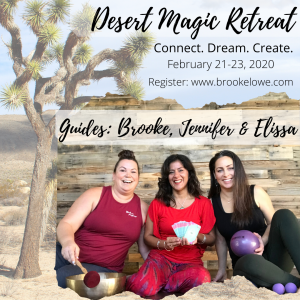 Retreat to the desert and step into your magic! Join Soul Alchemy Collab for a weekend designed to spark your imagination, provide insight into your greatest gifts and feel your way into living your most inspired life.
​
Brooke, Elissa and Jennifer will be your alchemy guides – offering a magical blend of soulful inquiry, movement, self-care, sound meditation, tarot, community bonding, creativity, play, nature communing and star gazing.
​
This all-inclusive weekend retreat includes beautiful accommodations, chef-prepared vegetarian or vegan meals, three facilitators, a new moon perfect for stargazing and manifesting your vision, and programming that will leave you refreshed, restored and inspired to share your gifts – your unique magic!
Registration is open: https://www.brookelowe.com/
---
Previous Events

Design Your Sankalpa: Align with your heartfelt intention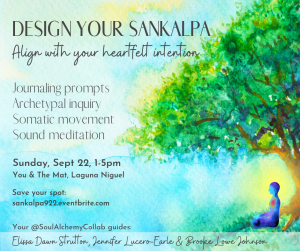 The Fall Equinox brings a balance between dark and light and ushers in a new season – a time of harvesting the fruits of our labors and turning inward to reconnect with the compass of the heart.
Reflect and connect with your own personal sankalpa – your heartfelt intention – through a series of journaling and self-inquiry prompts.
Your sankalpa serves as a rallying reminder of the most authentic expression of who you want to be in the world and provides a foundation for your thoughts, words, behaviors and actions – in your practice and in your every day life.
Embody your sankalpa with gentle somatic movement and tarot archetypal inquiry.
Aligned with your intention, rest into a relaxed and mindful state of being through a soundscape of gongs, singing bowls, percussion and wind instruments.
For more information about the workshop: https://sankalpa922.eventbrite.com
What to Expect:
Journaling and self-inquiry prompts to create your own Sankalpa: An intention arising from the heart and mind; an internal resolve; a grounding tool designed to focus attention, harness the will and direct thoughts, words, behaviors and actions toward a goal or vision.
ArcanaDance™, created by Jennifer Lucero-Earle, is a therapeutic practice designed to facilitate self-discovery, empowerment, transformation & healing through a fusion of tarot, guided movement & music. Using the tarot card of the Hermit, the archetype of introspection, we will embody our personal sankalpa through blending tarot imagery with guided meditative movement to soulful music. No tarot or dance experience required.
Sound meditation is a practice of connecting with the body vibrationally through sound. Enjoy as a mix of singing bowls, chimes and drums bathe you in relaxing sounds to reset your nervous system, reduce stress and anxiety, massage your body with the vibrations, and help you achieve a higher state of consciousness.
No previous experience necessary…just a beginner's mind and open heart. This workshop is for every body and your Soul Alchemy guides are equipped to accommodate the individual needs and abilities of each participant.
---
Spark Joy with Movement, Tarot & Meditation
Travel light, live light, spread the light, be the light." ― Yogi Bhajan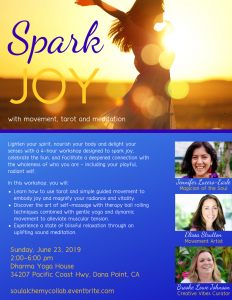 let your heart be light.
Just as laughter is good medicine, the experiences and activities that spark a sense of joy and delight are essential to our health, well-being, growth and vitality.
Lighten your spirit, nourish your body and delight your senses with a 4-hour workshop designed to spark joy, celebrate the Sun, and to facilitate a deepened connection with the wholeness of who you are – including your playful, radiant self.
In this workshop, you will:
Learn how to use tarot and simple guided movement to embody joy and magnify your radiance and vitality.
Discover the art of self-massage with therapy ball rolling techniques combined with gentle yoga and dynamic movement to alleviate muscular tension.
Experience a state of blissful relaxation through an uplifting sound meditation.

Welcome the Sun
During Summer Solstice, the sun energizes, provides warmth and brings with it a season of growth. Naturally, we are inspired to lighten and brighten our outer living spaces this time of year. Clearing out, decluttering and lightening up our inner living room as well serves to unlock our potential, raise our vibration and acts as a catalyst for positive shifts to occur in our lives.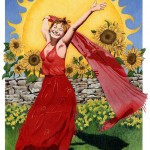 In the tarot, the Sun card represents the archetype of vitality. The Sun invites us to shine, express our luminous self, and turn towards what makes us feel vital and alive. This is the perfect archetype to explore when you are seeking ways to raise your vibration. Solar power your life! Tune in to your inner sunshine. Move through the world as the shimmering and shining light that you are.
Image: The Sun from the Gaian Tarot by Joanna Powell Colbert.

movement, tarot, therapy ball rolling and sound meditation
Jennifer will lead ArcanaDance, a blend of somatic movement and tarot archetypal inquiry. Elissa will guide targeted therapy ball rolling techniques combined with gentle yoga, dynamic stretching and a brief guided meditation. Brooke will lead participants through a soundscape of gongs, singing bowls, percussion and wind instruments.