Jennifer Lucero-Earle, Registered Somatic Movement Therapist & Educator (RSMT/RSME)
Who am I:
I am a trauma-informed Somatic Movement Therapist and Somatic Movement Educator with 30+ years experience with tarot. The heart of my work is restoring the archetype of the body: inhabiting the wisdom and intelligence of the body with respect, reverence, love, care, and joy. The body is its own ecosystem and is the blessed container of our humanity. My heartfelt goal with all my work is to cultivate the conditions that allow us to be better stewards of our personal and collective humanity.
I was born and raised in the boogie down Bronx, lived in NYC for 30 years, in the Pacific Northwest for 13 years, Southern California for 2 years, and now call the South my home where I live with my husband of 22 years and our two adorable rambunctious kitties. I am childless, not by choice, and have deep compassion for anyone who has experienced infertility and grief related to the mothering journey. My creative and therapeutic work, as a somatic alchemist, is the equivalent to having birthed children in the world. It is possible and deeply fulfilling to redefine mothering. In November 2022, my family matriarch died at the age of 104. As one of the four generations she left behind, I lift up my work in the world to honor my abuela's resilience, longevity, and history as a survivor.
---
My journey, summarized:
I am a woman of color from an indigenous (South American) and Caribbean family. A first generation American who was raised in an urban setting in a predominantly immigrant and working poor community. I grew up surrounded by people whose first language was not English (including my own) and whose foods, songs, dances, and rituals were outside of the dominant American culture. Most of us were Black and Brown People of Color. I watched as my family and community struggled to assimilate. To fit in, I learned to code switch. I witnessed my community vacillate between pride and shame for their cultural languages, rituals, foods, songs, dances, beliefs, and values. I learned early on that we were deemed "less than" by the dominant culture and always felt like I had to work ten times as hard to feel worthy. I struggled with imposter syndrome. I learned to not behave "too ethnic," which created a lifelong pattern of self-protection through a dance of hiding and concealing – a pattern that kept me from the truth of my body. It is difficult to drop the armor and feel safe enough to inhabit the space of your body when you are broadly deemed in a category of "less than" and are taught that the world is hostile and unsafe for "people like you."
Within the broad category of "less than" is having experienced racism, sexism, classism, social trauma, and intergenerational trauma. I have worked with many therapists and healing modality teachers in my lifetime – from many cultural backgrounds, races and ethnicities. I am thankful for the roles they played in my healing journey and for being part of my learning lineage. I have listed most of them at the bottom of this webpage and left out the ones who asked for privacy. It's important for me to share that the therapists and teachers that I felt most comfortable being truly vulnerable with are the ones that had similar life experiences and were also women and/or people of color. In those moments, I didn't need to explain myself. Not having to explain myself made me feel safe enough to bypass the time I would usually spend, in my mind, trying to find the words to articulate my experiences and instead drop into my body and spend time feeling. Because of this, I am passionate about working with and being of support to others who have had similar life experiences. I want to offer a space where no explanation is needed and where inherent worthiness does not need to be qualified or quantified.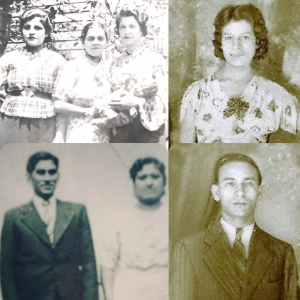 I also grew up immersed in cultural rituals that supported my mental, emotional, and spiritual well-being. My body was a place of censorship and survival. I had to shield and protect my body in order to feel and be safe in the world. My mind, heart and spirit didn't feel safe in the world but it found both safety and sanctuary at home where I was held by ancestors, curanderas, rituals, and indigenous practices. Within this scope of practices was tarot, which I was introduced to when I was two years old and began doing readings when I was 11. For me, tarot transcends culture and cultural expectations and speaks directly to the humanity of the individual – that our journeys through life are embodied through images that convey knowing, understanding, compassion, and that offer pathways to personal evolution and healing. I was always a kinesthetic learner but didn't know it for sure until I was in graduate school studying Experiential Health & Healing (now called Integrative Health & Healing).
Image right: the only photos I have of my ancestors.
Bringing the body into tarot was my first experience of bridging the gap between the places I felt most safe (heart, mind, spirit) and the place where I was deeply disconnected and wounded (body). Weaving tarot and the body together reopened the conversation between my body and mind. When I realized that I learn through the body and that my body is the central source of my wisdom, I began the journey from disembodied to embodied, and from disregard to deep respect for my body. I also discovered that I have a gift and a deep love for creating body-based archetypal experiences. I had been reading tarot since I was 11 but evolved my process and began doing embodied/somatic tarot readings in 2003 and created ArcanaDance™, as a group experience, in 2014. Bringing tarot archetypes and images together with embodied movement, I have witnessed profound transformation in myself and others. This led me to seek out somatic therapy training programs that included drawing, imagery, and movement. That's how I ended up studyingSomaSoul® Somatic Therapy at the Leven Institute.
I am the first person in my family to graduate from high school, college, to pursue an advanced degree (MA), and additional trainings in healing modalities. I name this with pride and awareness of the me that I lost on this educational journey and the me I reclaimed as I turned to healing modalities that restored my connection to my body and heart. It is a privilege and honor to combine all of my knowledge and experiences to serve my community.
---
What is SomaSoul® Somatic Therapy:
SomaSoul® Somatic Therapy is a body-centered (somatic) therapeutic healing modality, based on Body-Centered Gestalt Psychotherapy, that utilizes mindfulness practices and the expressive arts (drawing, journaling, movement) to aid clients in accessing, understanding, and managing emotional and physical tension.
Too often our focus in therapy is on the verbal narrative.
What happened?
When?
How come?

We tend to neglect another powerful storyteller…our body. 
I discovered SomaSoul® Somatic Therapy in August 2014 during a personal retreat to Kripalu after I'd left a full-time secure job to pursue work that focused on somatic movement and tarot. The experiences at Kripalu, with SomaSoul, reverberated for years. Then, when the world shut down during Covid in 2020, I seized the opportunity to embark on the two year 500-hour training to become a SomaSoul® Somatic Therapist and Educator. For 12 years prior I had been looking into various masters and PhD programs but the truth is, none of these "traditional" programs had the blend of narrative and expressive/movement arts that I was looking for. SomaSoul® has been instrumental in my personal healing and it builds upon the years I spent prior as a somatic dance facilitator and embodied movement curriculum creator and educator. 
In addition to SomaSoul® Somatic Therapy training, I also have extensive training and experience in trauma-informed practices, especially impacting people who identify as BIPOC (Black & Brown, Indigenous, People of Color), LGBTQIA+ (lesbian, gay, bisexual, transgender, queer, intersex, and asexual), and/or as immigrants, refugees, or migrants. I am an ally and advocate, and am aware of the myriad of ways that intersectionality can affect mental, emotional, physical and spiritual health. 
What is somatic:
Somatic means "relating to the body." The body is not only where we experience life, it is the frontier of our transformation. In somatic therapies and practices, awareness of our body-based internal experiences becomes an essential primary source of insight, understanding, and pathway to our own healing. Somatic practices allow us to tend to not only our mental, but also our emotional, physical and energetic/spiritual dimensions of self. We do this by listening, feeling and attuning to these dimensions of self, using the body as our entry point. 
The body's voice:
SomaSoul® centers the body and somatic intelligence, which gives a spacious invitation for our narratives to be expressed and understood across many layers of experience. While our verbal stories are helpful and often a starting point for processing our lives, they can sometimes overpower or bypass feelings, emotions and sensations that can offer deeper insight into what lives underneath our words. Our words can rationalize anything and can often conceal the truth. Beneath our words is the truth of how we feel, the truth of what happened to us, the truth of how what happened to us affected us, and the body-based clarity of what we might need to feel safe, to feel better, to mend and to heal. In SomaSoul® Somatic Therapy, the body is our starting point and our words arise from being in relationship with our body experience. 
Our nervous system:
Our body and nervous system records our emotional experience as adeptly as our mind does. Maybe even more so. In fact, our body and its systems record our entire lives and express these implicit memories through pain, tension, self-defeating behavior, physical and/or emotional imbalance, and reactivity. In SomaSoul® Somatic Therapy, the nervous system is acknowledged and supported via self-regulation and co-regulation practices that come from the polyvagal theory. 
The aim of SomaSoul® Somatic Therapy:
SomaSoul® Somatic Therapy is a relational therapy where the therapist is here to support you, not to fix you. As a SomaSoul® therapist and educator, my heartfelt aim is to help strengthen your ability to become aware of and meet your own emotional process and physical tensions through gentleness, acceptance and understanding. This includes guiding practices that aid you in navigating how to move from awareness to curiosity, from dysregulation to regulation in your nervous system, and widening your window of well-being so that you feel safe, supported and connected as you go through your own healing process. 
Gestalt Therapy:
SomaSoul® Somatic Therapy has a foundation in Body-Centered Gestalt Psychotherapy. Often referred to as Somatic Psychotherapy, Gesalt Psychotherapy is a process that recognizes and centers the intricate and interrelated relationship between the human body and the psychological well-being of a person. SomaSoul® Somatic Therapy integrates the power of Body-Centered Gestalt Psychotherapy with the freedom of the expressive arts and movement, and the heart of contemplative practices. 
More information about SomaSoul®:
SomaSoul®: Somatic Therapy was developed by Dan Leven, founder and Director of the Leven Institute for Expressive Movement (LIFE Movement).
---
Working with me one-on-one:
I do individual one-on-one sessions via Zoom. We work together to decide the frequency of sessions (weekly, biweekly, or other).
What happens in a session:
In SomaSoul® Somatic Therapy there is a blend of talking, reflective journaling, expressive arts (drawing and movement), visualization, and mindfulness-based practices (breath work, body scans). These practices are designed to help you to slow down, feel, and compassionately meet the truth of your experiences using a blend of your right and left brain. The hope is to offer you pathways to experiencing a greater sense of embodied awareness and presence, integration, and inner peace.
My rates:
One-hour SomaSoul® Somatic Therapy session – $150
Half-hour SomaSoul® Somatic Therapy session – $75
Sliding scale:
I offer limited sliding scale options without income verification. I encourage you contact me directly via email at jennifer@jenniferluceroearle.com to find out more about how we can work together to ensure that you can say yes to SomaSoul® Somatic Therapy. 
Payment options:
I do not work with insurance companies.
SomaSoul® Somatic Therapy is an alternative therapy practice and is not a substitute for conventional/traditional mental health counseling. You may do SomaSoul® Somatic Therapy alongside any conventional medical treatment.
I will ask you to select a preferred payment option (PayPal, Venmo, Square or Zelle) and will then send you an invoice prior to your session. Payment for a SomaSoul® Somatic Therapy session must be paid prior to your scheduled appointment.
Cancellation Policy:
Your scheduled session time is especially reserved for you.  If you need to reschedule or are unable to attend a session, please contact me at least 24 hours prior to your scheduled appointment. Otherwise, there may be a $35 no show fee.
To schedule a session:
Contact me via email at jennifer@jenniferluceroearle.com to schedule a 15-minute free consultation where we can discuss your hopes/goals for therapy, any current challenges you are experiencing, and any other pertinent information about your current physical and mental health that I should know. It is also during this time that we can discuss payment, including sliding scale, options. At the end of our 15-minute consultation, we will schedule your first session.
---
Working with me in groups:
Somatic Interludes: A Space for Reflection, Revelation, Resourcing and Respite via Zoom (live) –
Weekly ongoing one-hour sessions
Tuesdays, 9AM – 10AM PDT – 

Ongoing
Note: 
Classes are on break and will resume again in Fall 2023, Dates TBA, Registration link will be posted soon.
Time Zones: 9AM PDT/10AM MDT/11AM CDT/12PM EDT
Pay what you can in exchange for the class experience: $15-$35
Each class is one hour.
Register: Check back for registration link.
Join us for Somatic Interludes: A Space for Reflection, Revelation, Resourcing and Respite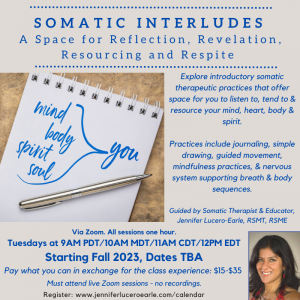 A somatic interlude is a pause from your day to tend to yourself.
We meet once a week, for one hour via Zoom, to take a break in community.
During this hour there is no expectation or pressure to be anything or anyone other than who you are in the moment. This is a no pressure container to get to know yourself, and the voice of your body, more deeply.
Together, we will explore introductory somatic therapeutic practices designed to offer space for self-reflection, revelations, resourcing, and respite for our mind, heart, body and spirit.
Practices include journaling, simple drawing, guided movement, mindfulness practices, and nervous system supporting breath and body sequences.
This is a space to learn practices and to deepen them.
We explore Somatic Awareness, Safety as an Anchor, the Lungs and Breath, the Heart and Connection., the Guts and Power, and practices that allow the Body to Speak.
After registering, you will receive a confirmation email containing information about joining the class/meeting.
Payment options:– Here is the info to make a payment of your choice, in exchange for the class experience:
I am also happy to work with you if you'd like to organize a group of people to do this series together.
I will be offering small group therapy sessions, via Zoom, in the near future.
---
Benefits of Somatic Therapy
These are just a few of the benefits of somatic therapy. This list includes benefits I've experienced as well as those some of my clients have shared with me. I will continue to add to this list.
A way to explore the connection between your biography (life story) and your biology (body)
Awareness of how and where your life experiences manifest in your body
Awareness of the impact that your life experience has and has had on your body
Can provide a deeper understanding of your self and the stories you tell about your life
Can provide insight into how familial and societal influences have impacted your body and nervous system
Can point to where and how personal, generational, relational and/or societal trauma has manifested in your body
Can aid in weaving greater mindfulness into your daily life, strengthening your mind-body connection
Can deepen your awareness of the influence and impact your nervous system has on how you feel and likewise provide ways to support self-regulation and co-regulation
Provides you with ways to develop greater self-awareness and body awareness
Provides many pathways to express emotion; through words, sounds, breath, images, and movement
Can facilitate your capacity for attunement, where you can move more consciously between awareness and responsiveness
Can expand your emotional vocabulary so that you can communicate your needs, how you feel, and what you might need to feel better
Discover ways to reparent your self and tend to the little you/inner child
Develops your capacity to be more self-compassionate and appreciative of your humanity
Provides gentle embodied ways to navigate a spectrum of emotions and feelings including anxiety, stress, fear, anger, despair, sadness, grief, shame, and guilt
By exploring expressive arts, it can spark your creativity and broaden your self-expression
By exploring self-reflective arts, it can shift your perspective and reshape some long-held personal stories
Can increase self-confidence, self-agency, and ways to develop healthy resiliency
Can provide ways to cultivate boundaries that respect your needs and not abandon yourself (putting others before you)
Can provide insight into what you need to cultivate healthy connections and relationships with your self and others
Can feel like a deep breath that facilitates more spaciousness in your mind, heart and body
Can point the way to how you might like to take up more space in your life, in community spaces, and in relationships
Can offer a relief from acute and chronic stressors and challenges; expanding your window of well-being
A container and a practice to being Present and engaged with life on terms that honor what you need to feel safe and well
Is a pathway to healing and feeling whole
---
My Training & Certifications – respect for my lineage of teachers and mentors:
---
Before Somatic Therapy:
Before embarking on the journey to become a somatic therapist, I spent 3 years as an Intuition & Somatic Strategist for an all woman of color communications firm, 12 years working in higher education as a career and academic advisor and program manager, 7 years in human resources, professional development and office branch management, and 3 years as a law office assistant. When I was a young teen I worked in a video store and then a record store, relishing recommending films and music to patrons. All of my work experience has been public facing and I thoroughly delight in working with people, whether it's helping them find their way to an inspiring film, a dance-worthy album, a meaningful career pathway, navigating college academic life,  facilitating a community meeting towards social change, or creating people-supportive systems for programs and projects. I love human beings and playing a part in their self-discovery, journey to self-determination, personal evolution, and healing processes.