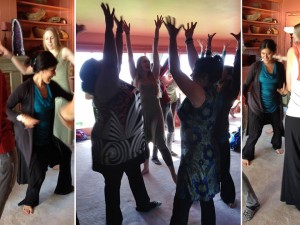 About ArcanaDance™
If tarot cards could dance, this is what they'd look like!
ArcanaDance™, created by Jennifer Lucero-Earle, RSMT/RSME,  is a therapeutic practice designed to facilitate self-discovery, empowerment, transformation & healing through a fusion of tarot, guided movement & music.
Arcana is defined as a secret. Dance is defined as movement to music. When fused together, ArcanaDance™ is defined as a secret that is revealed through movement.
ArcanaDance™ will move you from the inside out and outside in. As a practice, it can shift your consciousness and empower you to embrace, take action and create the life you desire. It is a dynamic physical, emotional and spiritual experience that is not to be missed!
ArcanaDance™ Experiences
ArcanaDance™ experiences are powerful and healing. Whether through a class experience, workshop, retreat or individual session, ArcanaDance™ is designed to deepen your understanding of emotional and physical responses to life experiences. While each person's experience may vary, participants regularly report a greater depth of clarity and readiness to make changes, large and small, in their lives.
Experience ArcanaDance™
There are several ways to experience ArcanaDance™:
Your body knows what to do. No tarot or dance experience is required.
Online Course Launching Winter 2019-2020:
Stay tuned for more information. Later this year, I will be launching the first online ArcanaDance™ course.
An ArcanaDance Course with Jennifer Lucero-Earle
Dancing with the Devil: A Somatic Exploration of the Shadow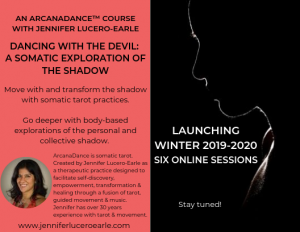 In the tarot, The Devil represents the archetype of the shadow. The shadow embodies any part of us that we've banished to the dark – the parts of us we've denied expression, exposure and discovery. The shadow also reveals to us a complex relationship with power. Who, what, where and how do you give your power over, and at what cost?
Somatic means "relating to the body." The body is not only where we experience life, it is the frontier of our transformation. ArcanaDance™ brings the tarot to life through the body. In this course you will learn about the physical imprint of the shadow as expressed and experienced through the language of the body. You will also learn how to use and transform the contractive energy of the shadow into something new and more expansive.
Join us for Six Online Sessions:
Intro to the Shadow via Somatic Tarot
Exploring the Personal Shadow
Exploring the Collective Shadow
Moving with the Shadow
Transforming the Shadow
Shadow Council
Delivery methods:
Live sessions (will be recorded)
PDF lessons with journaling prompts
Short video lessons (movement) with accompanying suggested playlists
Office Hours/Q&A via Private Facebook Group
More information to come!
What people are saying:
Read testimonials.