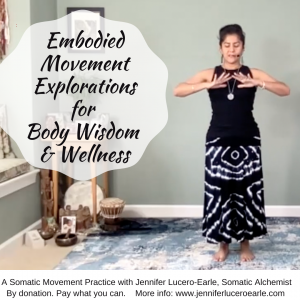 Embodied Movement Explorations (EME) for Body Wisdom and Wellness is a fusion of somatic dance including Nia, Shake Your Soul (dancing the fluid systems of the body), Somos Luceros, and ArcanaDance™.  We also explore various Yoga practices, QiGong, and archetypal explorations (via tarot) that also include prompts that come from the Embodied Movement Oracle deck I am in the process of creating.
Body wisdom is being aware of and attuned to what our body needs to feel well. This somatic intelligence and tending can be accessed and cultivated in many ways.
In each EME class we explore a variety of somatic movement practices that include somatic dance, yoga, QiGong, archetypal expression (mainly tarot), and other modalities that emphasize mindfulness and that guide self-knowing. We center the experience of living, feeling, sensing and moving in our bodies. We learn practices to know ourselves more deeply, cultivate joy, restore from stress, explore creative self-expression, and ways to nourish the various systems (fluid, muscular, skeletal, organ, nervous, and cellular) of our body.
This is not a "fitness" class. This is a wellness class. Come to move your body, develop a deeper appreciation for the intelligence and wisdom of your body, and to learn practices to be well in mind, body, heart and soul.
Wear comfortable clothes to move in. No shoes required. Feel free to have a yoga mat, blanket or towel for floor-based practices.
To register for an upcoming class, go to Move With Me.
Rent previously recorded classes:
I teach Embodied Movement Explorations for Body Wisdom and Wellness on Wednesdays at 9:00AM Pacific Time live via Zoom (check calendar of events). You can also rent a recording to move to at your own time. Recorded classes are one hour long.
Simply make a donation and email me with the class(es) you want to rent. I will then send you the link and password.
Step 1:
Decide which class(es) recording(s) you'd like to experience. Descriptions of each dance are listed further below on this page.
Navigating Ups and Downs: We may know this in our lives as peaks and valleys, moments of victory and defeat, or the uprising of energy for the battle and the downward pull of the clean up. Five cards were the inspiration for the crafting of this class: 5 of Swords (Tarot) and Up and Down, Stomp, Undulate, and Swim from my forthcoming Embodied Movement Oracle deck. Class is 70 minutes.
Devotion to Our Well-being: The invitation is to practice patience, perseverance and gratitude as we take stock of our progress in the gardens we've planted to nourish our inner and outer lives. We take a single step towards building something that will last and devotion allows us to receive the fruits of our dedicated labor. Our guiding tarot card for this class is the Seven of Pentacles/Discs/Earth. And our embodied movement cards are: Walk, Lift, Twist and Soar. Class is 70 minutes.
Basking in the Somatic Sensations of Joy: Our guiding tarot card for this class is the Four of Wands/Staves/Fire. The invitation is to open to joy, follow its expression as it moves through your body, deepen your connection with your specific somatic imprint of joy and to mobilize your face, torso and hips into a smile. Class is 70 minutes.
Emotions and Our Three Body Weights: All classes will be crafted using movement patterns and principle 8 from the Nia Technique. Principle 8 is The Core: Pelvis, Chest and Head. These three body weights are homes to our emotions. Throughout our embodied explorations we may notice which emotions move through these areas of our body. We get to explore the ways in which emotions flow in and through our Core and likewise where we experience blocks or constriction. Our guiding tarot card for this class is the Ace of Cups/Water. The invitation is to awaken our heart and allow ourselves to experience emotional flow. Class is 70 minutes.
Dancing Lanterns of Wisdom: We dance to the Somos Luceros body of work, Dancing Lanterns of Wisdom: An Embodied Exploration of Listening and Revealing What Has Heart & Meaning. This dance is a template to explore connecting head and heart, walking with our lanterns, expanding our lens of perception, listening deeply, sifting and uplifting, and both embracing and sharing the wisdom revealed. Our guiding tarot card for this class is the Hermit, the archetype of the wise-one within and teaches us the art of self-reflection, self-discovery and self-knowing. Class is one hour.

Cultivating the Spirit of Play:

 Our guiding tarot cards for this October series of classes are the Fool and the four Pages (court/people cards). In the tarot, the Fool is the archetype of the seeker and teaches us the art of wonder, exploration, and play. The four Pages (Air/Swords, Earth/Pentacles, Water/Cups, and Fire/Wands) are the learners, seekers, and students of their suit/element. There are four classes in this series. Each one is the same movement sequence but emphasizes one of the four Pages in the Tarot. You can request all four or choose from the Page of Swords (Air), Page of Cups (Water), Page of Pentacles (Earth), or Page of Wands (Fire). Each class is one hour.
Exploring Expressions of Power: All classes will be crafted using dance movement repertoires from Shake Your Soul (Leven Institute). The dance movement repertoires we will embody and explore allow us to feel the power of the major fluids systems of the body: synovial, intercellular, arterial blood, venous, and cerebrospinal fluid. Power is energy and the fluid systems in our bodies provide us with different qualities of energy that allow us to express our power in a variety of ways. In this series, the Shake Your Soul repertoires will aid us in "trying on" relaxed power, fluid power, rooted power, resilient power, and attuned power.
Step 2:
Make a donation payment in exchange for the class recording. Donations range from $5-$15.
To make a payment:
Venmo: Jennifer-Lucero-Earle or https://venmo.com/jennifer-lucero-earle
PayPal: https://paypal.me/jenniferluceroearle
Credit Card (Square): https://my-site-105290-108786.square.site/
Step 3:
Email me (jennifer@jenniferluceroearle.com) with with the name of the class and confirmation of donation made.
Step 4:
I will reply to your email with the link and password to the recording.